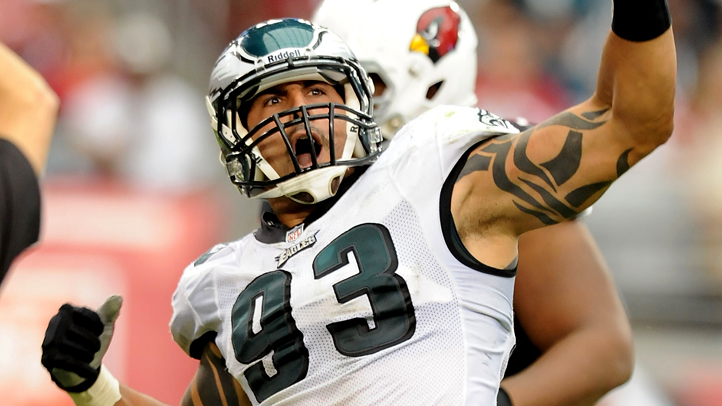 Less than 24 hours after the Eagles' latest embarrassing loss, they made a change. They didn't fire Andy Reid or anything major like that. Instead, they cut defensive end Jason Babin.
I'm sure Babin was a malcontent. Plenty of the beat reporters were quick to note what a jerk he was in interviews, and there's not really much reason to cut somebody like this now unless there are off the field circumstances. I know, I know. Andy Reid said he wanted to get more plays for the youngsters. But unless Babin was making a scene, Reid could have just benched him or played him less. Babin played 60 percent of the defensive snaps against Carolina.
Additionally, while Babin isn't playing great, he's (a) not the only one and (b) not playing that poorly. I pulled the Pro Football Focus stats on pass rush productivity (sacks + .75*hits + .75*hurries / total pass rush snaps). Here are the Eagles defensive ends through the first 12 weeks. You can see their PRP number at right, and then the difference between their 2011 figure and 2012 figure, if applicable. Also, 25% Rank refers to their PRP rank compared to the rest of the 4-3 defensive ends with at least a quarter of their team's pass rush snaps.
As you can see, nearly everyone is down since last year. Babin and Cole were #4 and #5 in the league then. Both have dropped -- although 9th and 14th overall isn't so bad. And Cole actually fell more than Babin. Darryl Tapp and Philip Hunt fell even more (small sample size). Brandon Graham (also SSS) is the only player to improve from last year -- a trend that jives with what we've seen. Note that if Graham had registered this high of a PRP while reaching the threshold for ranking, he would have blown away the second place candidate (Charles Johnson, with 13.7).
What can we take away from this? First, that Babin was never the sole pass rush problem. In fact, he should have been less of a concern in this area than nearly everyone else. However, in addition to probably not being a happy camper willing to sit for a young player, Babin also represents low upside for 2013. While we hope Cole hasn't hit a wall due to age, he's stuck in Philly next year with a contract that makes it more expensive to cut him than to keep him. There was no such reason to keep Babin, though.
Furthermore, Babin's career is delicately intertwined with Jim Washburn and the Wide Nine. Babin was in Philly back in 2009 and did nothing at all. Only with Washburn's scheme did he thrive, and with Washburn likely gone in the purge this offseason, why would anyone want to keep Babin? In that sense, it's not a bad idea to get rid of him now and get a look at the youngsters -- even if right now he's still a better option than most.
Of course, and this is almost a footnote, pass rushing isn't everything. Babin was always suspect against the run, and this year was no different. In 2012, both his stop rate (run tackles that resulted in losses for the offense) and his tackle percentage (tackles and .5*assists / run snaps) were second-worst on the Eagles, ahead of Hunt. Not necessarily a reason to suddenly dump Babin now, but worth noting.
Finally, I might as well show you the pass rush stats for the Eagles defensive tackles as well. Those show similar declines for incumbents Landri and Jenkins: