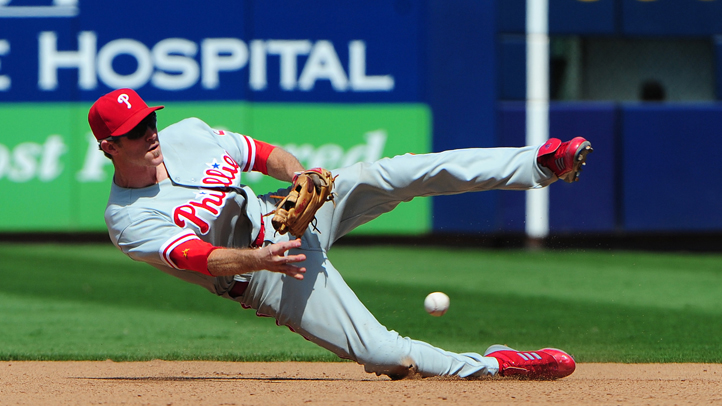 Coming into this weekend's series against the Atlanta Braves, the Phillies knew that the three game set was likely to decide the fate of the 2012 team. After having won four in a row prior to Friday night's series opener, the Phillies had a bit of a head of steam as they headed into Atlanta as they attempt to gain in the Wild Card race.

And if they could have taken the series, it would have made Tuesday's trade deadline a lot more interesting, as the Phillies could have reasonably expected to compete for one of the two Wild Card spots going forward.

But after getting swept at the hands of the Braves over the weekend, this much is clear: The season is just about over for the Phillies, who now find themselves 13 games under .500, 16 back in the division, and 12.5 games back in the Wild Card race.

I say "just about" because anything can happen, but they've dug themselves into a deep hole, and it will take nothing short of a miracle to drag them out of it. That was especially evident after the game, when GM Ruben Amaro declined comment following Sunday's loss.

Silence, as they say, can be deafening, which is something that holds true now more than ever. Typically, Amaro might come off with a "we just have to get healthy or get some things to go our way" comments after a sweep, but even he can see that the writing is on the wall.

I – along with others – were fairly optimistic about the Phillies coming into the season, and for good reason. Despite injuries to Chase Utley and Ryan Howard, they had a deep and solid rotation, a great closer at the end of a good – if not spectacular - bullpen, and an offense that should have been good enough until everyone got healthy.

For a while, the Phillies hung in with the rest of the division and, at times, looked like they had things under control. But after Roy Halladay went down in late May, the team followed suit. And now, even with all the oars rowing in one direction, it's pretty clear that this team is pretty well sunk.

It's unfortunate, because it's not like the Phillies didn't have the talent, and at times, it seemed like they were victims of bad luck instead of poor talent. After all, baseball can be a crazy game that rewards those who are less deserving.

No matter. There is still enough time for the Phillies to right the ship – but only if everything (and I mean EV-ER-EE-THING) goes exactly right for them – to get back into the postseason. But for now, let's go ahead and bag 'em and tag 'em, boys, because the Fightin' Phils just secured themselves a spot on the golf course in the first week of October.