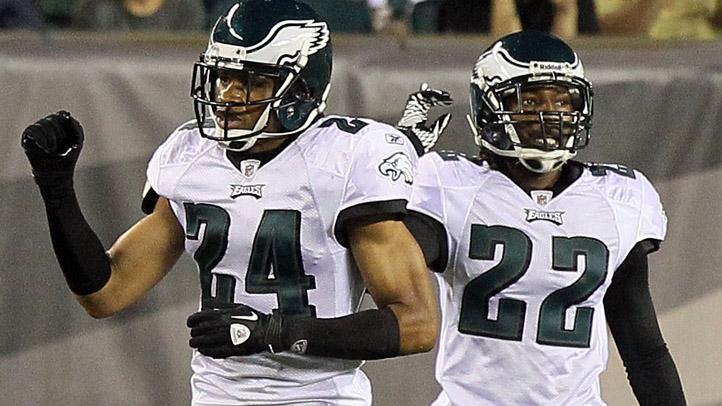 It's quite a feat to turn a strength into a weakness. That's what Juan Castillo and Johnnie Lynn managed to do to the Eagles' elite trio of cornerbacks.
Coming into the season, the three Pro Bowlers were supposed to be an asset that covered up the Eagles inexperience at safety and cornerback. Instead, we were frequently left to wonder if the coaches had any plan to use them effectively at all. The biggest problem was that through most of the season no one figured out how to play Asante Samuel, Nnamdi Asomugha, and Dominique Rodgers-Cromartie all in the same lineup.
After they decided not to trade Samuel, the Eagles assumed that Rodgers-Cromartie could man the slot, a position he was uncomfortable with from the start. In yet another example of poor self-scouting, that turned out to be an awful idea.
Courtesy of Pro Football Focus, here are Asomugha's and Rodgers-Cromartie's stats at the two positions (Samuel played almost exclusively outside):
Starting with Asomugha, it's worth noting that by these metrics he was stellar. Among cornerbacks with at least 25 percent of snaps, Nnamdi ranked first overall in coverage snaps per target, sixth in yards per snap, and second in snaps per reception. Each figure was down from 2010, as he was targeted more often, but they were all still elite.
Regardless, Asomugha provided similar performance no matter where he lined up. He had slightly more targets in the slot, but didn't allow anything big.
Contrast that with Rodgers-Cromartie, who posted a massive split playing in two different positions. Out of the 44 corners last year with 25 percent or more slot snaps, he ranked 39th in snaps per target, 44th in yards per snap, and 41st in snaps per reception. That is awful. He was arguably the worst slot corner in the NFL.
Put Rodgers-Cromartie outside, and everything changes. In fact, DRC's numbers on the outside were even better than Asomugha's. As bad as he was on the inside, Rodgers-Cromartie was one of the best corners in the league when he was playing at his natural position.
Toward the end of the season Rodgers-Cromartie began to get more snaps outside. Partially that was to replace an injured Samuel, but even before that Asomugha would often play the slot in nickel and dime. Clearly, that was a much better defensive formation than what they had going on earlier — and that it took so long to implement is another black mark against Castillo.
Looking forward, I expect Samuel to be traded, freeing up space for DRC to play outside all the time. While Asante is still a great cornerback, playing to everyone's strengths will be easier next year. The cornerbacks might actually be the fool-proof strength we all expected six months ago.