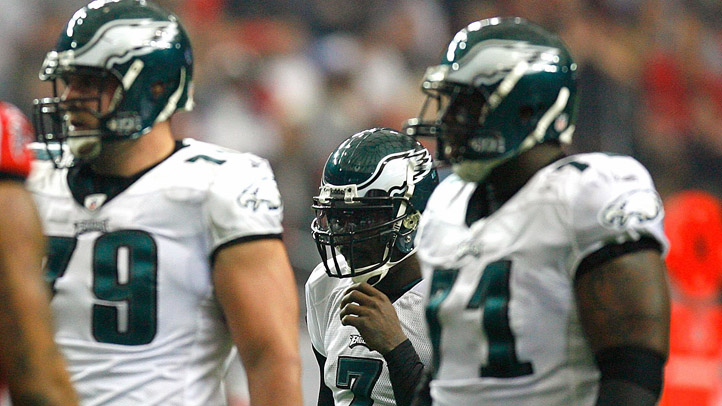 The Eagles spent a whole lot of money on a whole lot of free agents this offseason, and yet it's no secret that those new additions won't add up to much this season if the team's offensive line doesn't perform. Just this past weekend, the Eagles shifted Todd Herremans over to right tackle and announced that Jason Kelce will now be the starting center. That gives this team two rookies -- Kelce and right guard Danny Watkins -- starting side-by-side on the line. And that combination might determine the eventual fate of this entire team.
There are few quarterbacks better at making it up for shoddy line play than Michael Vick, but it's tough to forget that Vick was sacked 34 times last year in just 12 games. Project that out to a full season and you've got Vick being taken down a whopping 45 times, which would have made him the second-most sacked QB in all of football behind human punching bag Jay Cutler.
Now, Vick could be blamed for many of his sacks. He's prone to dithering around back there, trying to make a play when there's nothing there because he has the feet to do it. A QB like Vick is naturally going to be sacked more often because of his ability to extend plays and buy time. But he shouldn't be sacked 45 times this year. He won't make it. He'll be destroyed.
If Vick goes down, then you have Vince Young stepping in and everything going straight to Hell.
Not that the Eagles ignored the offensive line during their busy offseason. Watkins is a first-round pick. Left guard Evan Mathis didn't allow a sack in the past years with the Bengals (though sacks allowed is usually a better stat for assessing tackles and not guards). And the team brought in tackle Ryan Harris in free agency, but back injuries forced Herremans to take his spot. The biggest question mark is Kelce, a late-round pick playing a tough position for rookies (I do not know if Kelce -- like most centers -- will be the one to call out blocking schemes for the line). But Kelce earned his spot by outplaying veteran Jamaal Jackson, so just because he's unheralded doesn't mean he automatically sucks.
Perhaps the biggest addition to this line will be coach Howard Mudd, who spent over a decade keeping Peyton Manning upright. Mudd turned unheralded linemen into solid protectors for Manning in Indianapolis. There are teams like Mew England and Pittsburgh that do a great job cultivating low-round offensive linemen and -- with Mudd in the fold -- there's no reason Philly can't also pull it off. Not to mention the fact that Pro Bowler Jason Peters is still around at left tackle.
Still, those sack numbers are still there, and given the short time that this team has had to pull itself together (Peters is the only lineman returning to his old position), Eagles fans have every right to be fearful going into the season. Because other teams aren't exactly going to sit back and give this team time to jell. And all it takes is one good hit on Vick for the dream to possibly be over.