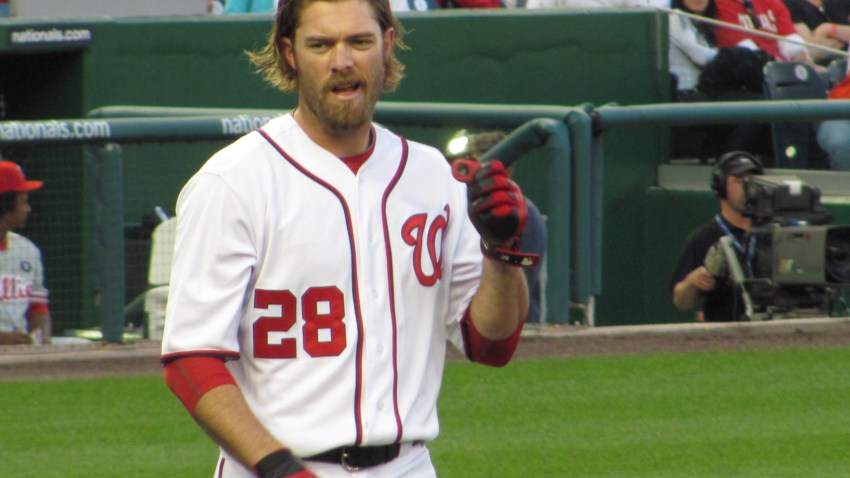 I like to believe that one day I'll figure out the magic formula for knowing which ex-Phillies to boo and which to cheer for upon their return to Citizens Bank Park -- or in Thursday night's case, a road trip to CBP South, a.k.a. Nationals Park.
I was at the 2010 Opening Day at Nats Park (much to the chagrin of Nationals Fans). I usually get a mini ticket plan through the Nats so I can add a few extra Phillies games into my summer without having to drive the six hours to Philly. I've gone with Phils fans,
I've gone with Nats fans -- heck, Thursday night I went by myself and had a grand old time. It's true what they say: the place is usually so overrun by Phillies fans it feels like a home game. But the latest series with the Nationals seemed to serve a purpose other than cheering for the Phightins on someone else's turf.
Having watched the previous two games on television, I saw the smirk creep across Jayson Werth's face as he was jeered after catching a fly ball or when he was at bat. But when Werth stepped up to the plate for the first time Thursday evening, the seats practically shook as the thunderous boos rained down from the stands.
Only this time there was no smirk on his face. No mocking hat tip to the raucous fans in right field that sang out chant after chant in his direction.
"Jay-son Werth-less." "Ben Fran-cis-co." "You suck Jay-son." And of course the infamous "A-hole" chant -- which when you pay close enough attention, kind of looks like the Tomahawk Chop (which probably means you should cut it out).
Oh, and of course the obligatory "E-A-G-L-E-S EAGLES" and a "Let's Go Flyers" chants rang out briefly, but for the most part the Phillies faithful stuck to sticking it to Werth and his $126-million reason for wearing that curly "W" with pride.
But what about the booing? When Scott Rolen comes to town, the hatred is deafening. Pat Burrell practically gets a curtain call for hitting a home run against his former team and enjoys enthusiastic cheers every at bat. J.A. Happ had a loving reception on Opening Day this year, while Brett Myers nearly got booed out of the park. Matt Stairs and Jim Thome always get a nice round of applause. And most people by now have forgotten to show any sort of emotion for the rest of the remaining ex-Phillies in the league that still make an appearance at Citizens Bank Park every now and again (e.g. Randy Wolf, Aaron Rowand, etc).
It's clear what kind of treatment Werth is going to get when the Nationals head north in a couple of weeks to the original CBP.
I'll report on how the fans receive Greg Dobbs at Friday's weekend series opener against the Marlins when that time comes. Will they boo because he was such a disappointment in recent history or cheer him for the Phillie he once was?
I'm not going to stand on my soapbox and say anyone should boo or cheer for anyone in particular, because you shelled out your hard-earned cash to buy a ticket, a jersey, a beer, and the right to be as rowdy as security will let you be without escorting you out. But to drive 150 miles to someone else's park just to boo someone seems a little excessive to me. I suppose it's just the opposite of driving 150 miles to watch Stephen Strasburg pitch a game just to say you saw the rookie phenom in person (which I did, and the Nationals beat the Mets, and it was glorious).
But when the booing of Werth is louder than the cheers for Carlos Ruiz's home run, I start to wonder where people's priorities lie. Maybe if the Phils had a losing record and the Nationals had sole possession of first place and Werth was ruining all of our lives I would understand the sentiment a little bit more. But we have Cliff Lee, the Phillies are winning and they're doing it all without Werth on the roster.
I'd say we have a lot more to cheer about than we have to boo.