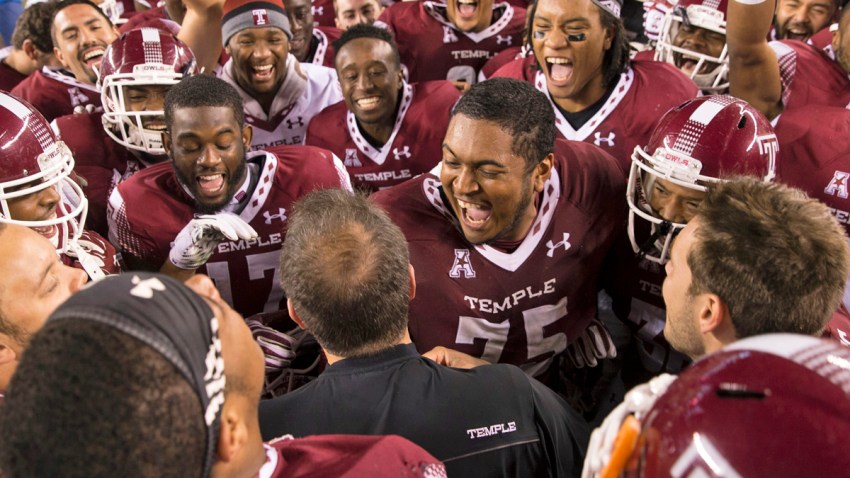 Temple's rise to prominence in the American Athletic Conference this season landed the Owls a Top 25 ranking, yet Tuesday night's Boca Raton Bowl will mark just the fifth bowl appearance in school history.
The Owls (10-3) will be facing a Toledo program playing in its fifth bowl game in the last six years, and 15th overall at FAU Stadium in Boca Raton. At least for Temple head coach Matt Rhule there was one bit of irony he took away from Monday's walk-thru at the venue.
"It looked pretty good coming in as the visiting team to have it say 'Home of the Owls.' It was a little bit more reassuring," Rhule said about the on-campus stadium at Florida Atlantic University, which has the same football mascot as Temple.
Both teams feature 19 seniors on their rosters, with Toledo (9-2) relying on senior quarterback Phillip Ely and big offensive line. Ely completed 206-of-375 passes for 2,680 yards, 21 touchdowns and just 10 interceptions and was only sacked four times the entire season.
The Rockets' Jason Candle doesn't mind saying that he'll be leaning on Ely and the other seniors in his head coaching debut. Candle, who had been associate head coach and offensive coordinator, was named head coach on Dec. 2 after Matt Campbell resigned to take the same job at Iowa State.
"We're in a little bit of a transition phase here obviously with me just being named head coach and to go through that kind of a phase you have to rely on your senior leadership," Candle said. Ely "is a special player and has a calming effect out there. He's got the innate ability to get the other 10 guys going in the right direction at all times and he's really been super for us."
Temple senior linebacker Tyler Matakevich hopes to succeed in unnerving Ely, who pointed to him as somebody who jumped off the film in planning. Matakevich, the AAC defensive player of the year, also won the Chuck Bednarik Award and Bronko Nagurski Award as the nation's defensive player of the year. He should have a large contingent of family and friends making the trip to South Florida to watch his final collegiate game.
"The competition we faced this year in our conference is huge and it allows you to get ready and really prepare," said Matakevich, who will celebrate his 23rd birthday on Tuesday. "We've gone up against not only some of the best players in the country, but some of the best teams."
---
Here are some things to know about the Boca Raton Bowl:
FOUR HORSEMEN: The Rockets piled up almost as many yards rushing (2,557) as yards passing (2,751) this season behind the four-pronged attack of Kareem Hunt, Terry Swanson, Damion Jones-Moore and Marc Remy. All four are underclassmen, with the junior Hunt (5-11, 225) leading the charge with 920 yards and 10 touchdowns on 163 carries. Swanson (5-9, 202) is a sophomore and tacked on 878 yards and seven touchdowns on 132 carries for a 6.6 average.
YOUNG GUNS: Candle, 36, and Rhule, 40, represent the youngest coaching matchup of the 2015-16 bowl season. They are very familiar with each other with both having been assistant coaches in the last two meetings between the teams. Candle was on the winning side of a 36-13 game at Philadelphia's Lincoln Financial Field on Oct. 1, 2011.
SUNSHINE STATE HOMECOMING: Temple has 13 players on its active roster that played their high school football in Florida, with senior wide receiver Robby Anderson being the closest to home. He starred at Plantation High School, which is a little less than 30 minutes south of FAU.
POWER 5 CONNECTIONS: Ely and senior center Ruben Carter both began their careers at SEC and ACC programs, respectively. Ely was redshirted as a freshman at Alabama in 2011 and completed 3-of-4 passes for 42 yards and a touchdown in six games as a backup quarterback in 2012 before transferring to Toledo and sitting out the 2013 season. He missed most of the 2014 season with knee and shoulder injuries. Carter played at Florida State from 2011-14 and won a national championship, and after graduating last spring he transferred to Toledo with one year of eligibility remaining.
Copyright AP - Associated Press