Steve Consalvi was looking for a lifetime experience and he got it, Taser and all.
The 17-year-old Boyertown High School senior ran out onto the outfield during the Phillies-Cardinals game last night at Citizens Bank Park. His thrill-seeking run ended when Consalvi joined the Philadelphia Notorious Fans Hall of Fame as the first fan ever taken down by a Taser gun.
Yeah, he spent a night in jail, but when your hometown thinks you're a hero, how bad can that be?
"Greatest moment in Boyertown history, lol," is one of the posts on the new Facebook page "Steve Consalvi is a Hero."
Amy Ziegler, his very disappointed mom, calls her son's act "just a spur of the moment, dumb idea."
But after hearing from Consalvi's dad Wayne, that doesn't seem so. Steve called his dad beforehand to ask permission.
"He actually called me before it happened and said 'Dad, can I run on the field?' and I said 'Steve, I don't think that's a good idea."
Wayne says his son tried to make a good case by comparing the field jumping to a "once-in-a-lifetime experience."
"I said I don't think this is a good idea, I don't think you should do it. Apparently he didn't listen," Wayne told NBC Philadelphia Tuesday.
After his son hung up, Wayne called a friend of his who was also at the game and tried to get him to stop the teen.
Sports
In partnership with NBC Sports Philadelphia
Wayne, who owns Consalvi's Auto Repair in Pottstown, says he's not saying that what his son did was right, but he doesn't think it deserved a Taser gun response.
"I think it was uncalled for -- he wasn't doing anything wrong, he wasn't drunk, he wasn't on drugs," the dad said.
Steve even slowed down to give one of the older men chasing him a break, Wayne said.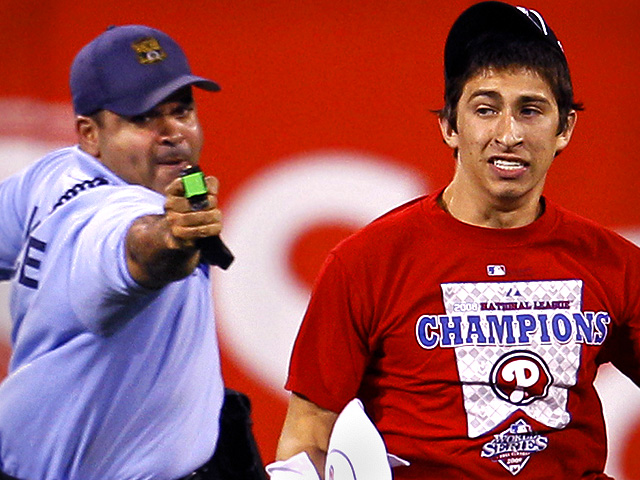 Mom agrees, but she's also apologizing for the whole mess.
"I personally want to make an apology to the Phillies for it," Amy said. "His behavior was not appropriate at all."
She called Steve a clown who'd she'd expect to hold up a sign, but not rush the field.
Philadelphia Police Commissioner Charles Ramsey is standing behind the officer's use of a stun gun. But Pa. Gov. Ed Rendell calls it a "big mistake."
"There's no need to use Tasers on fans...we should just have enough personnel out there to surround them, take them off the field and off to jail," Gov. Rendell said. "No need to Taser."
The Philadelphia Police department and Phillies are discussing whether it should be used in the future.
The teen was checked out after being tasered and is doing fine. He has been charged with criminal trespassing.