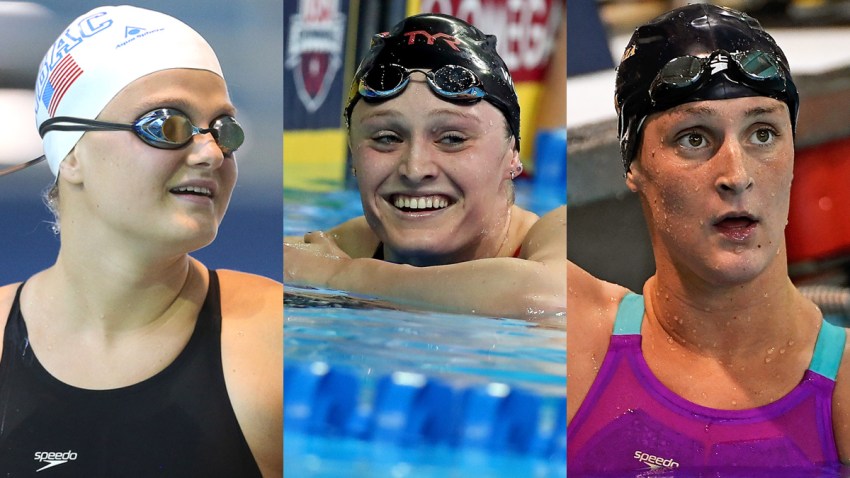 What to Know
Swimmers Cierra Runge, Leah Smith and Kelsi Worrell will all be competing in their first Olympics
It's a team effort for Runge and Smith
A trio of women with ties to Pennsylvania and New Jersey will be going for gold in the pool at the Rio Olympics and they all know they couldn't do it alone.
The trio – all first-time Olympians – is headlined by Westhampton, New Jersey's Kelsi Worrell who will be swimming the 100-meter butterfly in Rio. The Rancocas Valley Regional High School grad said she began swimming at a mommy-and-me class and began swimming competitively at age 7
The now-22-year-old is appreciating her time in the pool more than ever.
"I know the commitment that it would take and how hard it would be," Worrell said about swimming in college. Now a University of Louisville grad, she motivates herself to keep going.
"Someone can't give you that intrinsic motivation, it's something I've held myself accountable for in practice," she said. [[388950791, C]]
Luckily, she has six coaches that help push her toward Rio.
Coaches, and teammates, also helped Chester County's Cierra Runge to Rio. She is only 18 but she will get a chance to claim a medal as part of the women's 4x200-meter freestyle relay team.
After qualifying, Runge took to Instagram to express her pride of reaching her lifelong goal.
"Words cannot describe the feeling of making my first Olympic Team and fulfilling a lifelong goal. Thank you to everyone who helped me get to this point," she wrote.
One of Runge's teammates in the relay is Pittsburgh, Pennsylvania's Leah Smith. [[388948162, C]]
Smith, also swimming in her first Olympics, will also be competing in the 400-meter freestyle and 800-meter freestyle in Rio.
Olympic veterans – and gold medalists – Katy Ledecky, Allison Schmitt and Missy Franklin (Schmitt and Franklin won gold in the same event in 2012), along with first-time Olympian Melanie Margalis round out the 800-meter relay team that will use four swimmers in the qualifier and four in the final.
Worrell is first into the pool as heats and the semifinals for the Women's 100-Meter Butterfly are held Saturday, Aug. 6.