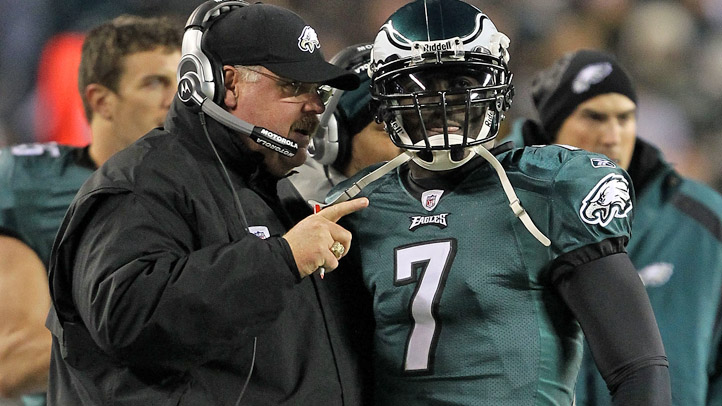 Even if the six-year, $100 million contract Michael Vick signed just before the 2011 season was more like five years for $80 million the implication was the same: Andy Reid planned to build the team around Vick for the foreseeable future.

That didn't happen, of course. The Eagles were 8-8 in 2011 and managed just half as many wins in 2012. Predictably,Reid was fired this week and now the front office -- and the new head coach, whomever he is -- will have to decide Vick's fate, along with the other quarterbacks on the roster. We'll preview those decisions below.
Michael Vick
The biggest obstacle to Vick remaining in Philly is the aforementioned contract. He'll almost certainly have to restructure it to return -- and that's assuming that the new coach thinks Vick is worth keeping around. Someone like Chip Kelly, who runs an unconventional, up-tempo offense at Oregon, might be able to get the most out of Vick. The same holds for 49ers offensive coordinator Greg Roman, who's had success with Andrew Luck (while at Stanford), Alex Smith and Colin Kaepernick. Otherwise, Vick could be taking his talents elsewhere (like, say, Kansas City should Reid get the job there, as has been widely reported).
Verdict: Gone
Nick Foles
The Foles bandwagon gained steam in the preseason when he subbed for an injured Vick and looked great against vanilla defenses and second- and third-teamers. Foles got his first regular-season start in Week 11, after Vick was sidelined with a concussion and, well, he looked a lot like a rookie struggling to learn the nuances of what it means to be an NFL quarterback. There were ups and downs and as Reid noted often, consistency was Foles' biggest issue. But the rookie third-rounder also showed glimpses of franchise-quarterback potential. Whether that translates into a bona fide franchise quarterback is another matter.
"I think you want to be careful," general manager Howie Roseman said recently. "I go back to the analogy that I use about a starting pitcher in baseball. They go through the batting order one time, or they go through lineups of the teams in their division one time and maybe they do really well before there is a book on them.
"The things that we saw from him were promising," Roseman continued. "He's smart. He's obviously big and he's got a good arm. He makes good decisions. He can throw on the move. He's big enough to avoid pass rushers and be able to throw them off him. At the same (time), he knows there are things he has to work on and get better.
"With players, we know that rookies take jumps from their first year to their second year. We're looking forward to seeing that from Nick."

It's pretty clear that Foles will return in 2013. The only question is whether he'll be the No. 1 quarterback heading into training camp or if someone like Kelly would be partial to Vick.
Verdict: Staying
Trent Edwards
It was something of surprise that journeyman Edwards beat out Reid favorite Mike Kafka but he deserved the roster spot based on his performance in training camp and preseason. He's also good in the locker room, which never hurts. Whether Edwards stays will be largely dependent -- like most things -- on the new coach and his offensive philosophy. All things being equal, the Eagles could do worse than Edwards as their No. 3 quarterback, no matter what offense they're running.
Verdict: Staying
---
Stay or Go: Special Teamers