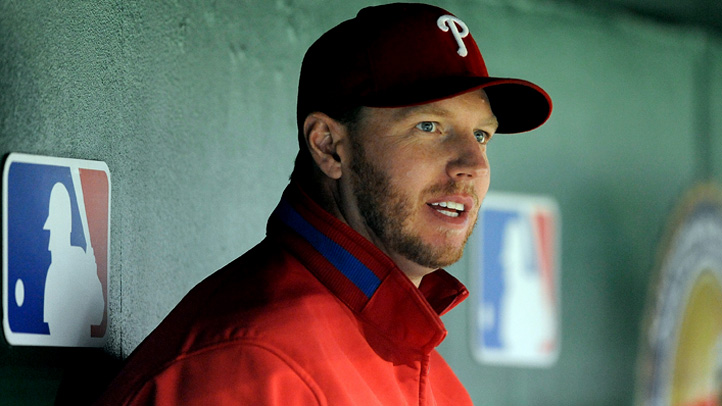 We all knew going into this season that the Phillies' starting pitching rotation could be one of the greatest ever. Now it seems the stats are beginning to prove it. Those nerdy nerds Wall Street Journal did a little number crunching, and they found that the Phillies are crushing history in one very telling stat:
Phillies starters are on pace to shatter the all-time record for strikeout-to-walk ratio, striking out 4.37 batters for every batter walked. That nearly laps the second-best Milwaukee Brewers (2.97).

Four strikeouts for every walk has been an impossible barrier for pitching rotations to crack. The only team to come close is the 2002 Arizona Diamondbacks, which finished at 3.88 thanks largely to Curt Schilling (6.06) and Randy Johnson (4.63). Three Phillies have at least four strikeouts per walk—Roy Halladay (8.14), Cole Hamels (5.42) and Cliff Lee (4.63).
Looking back on the careers of every Phillies starter, I think it's safe to say that these ratios aren't exactly anomalies. Hamels' current ratio is a career best, but he's always hovered around that vaunted 4.00 mark. And over the past three seasons, Halladay has gotten over 200 K's while never walking more than 40 batters, which is INSANE, even more so that he's somehow improving on that this year. So this team ratio isn't some silly early season fluke stat that you can't project through to the rest of the season. Barring injury, this rotation SHOULD break that record, and with relative ease.

Now here's the interesting part. The WSJ listed the ten best pitching teams of all time with regards to that ratio. The Phillies top that list, but it turns out only TWO teams on the list – the '01 D'Backs and the '63 Dodgers, went on to win it all. Though eight of the remaining nine teams on the list did go on to win 92 games or more. We know these days that postseason success is such a small sample size that's actually a poor indicator of a team's overall quality (though that doesn't diminish winning a title at all). So the Phillies' current ratio is confirmation that they're a superior team (duh), but it's not a guarantee of anything come October. I'll say this though: it is nice to go into the playoffs with the greatest rotation ever assembled.