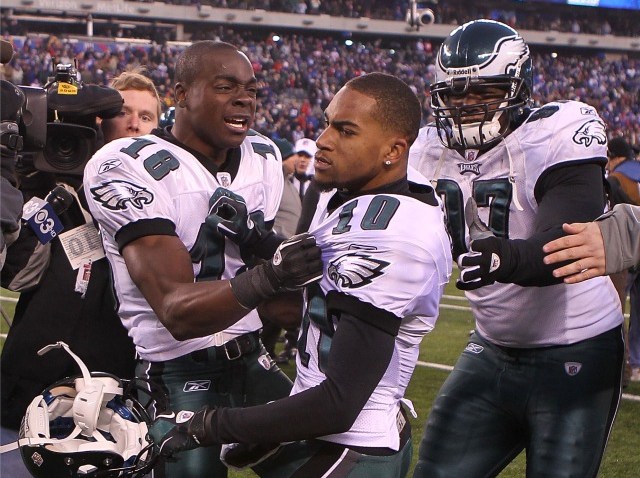 Many fans around Philadelphia turned off their televisions when the Eagles were down 31-10 to the Giants on Sunday. Even NBC10's own Tim Furlong admitted to it.
While those of us who stuck around witnessed perhaps the most incredible comeback in Eagles history, was it that wrong to walk away from such a huge deficit? There's no "right" answer, but at least statistically, there was no reason to expect the Birds could come back to win -- even if every ball bounced their way.
According to the Win Probability calculated by Advanced NFL Stats, that possibility was as close to zero as you could get. Let's break it down by play:
* After Jeremy Maclin fumbled, allowing the Giants to score another touchdown before halftime, the Eagles were down 24-3. Chance of winning: 4 percent.
* With 4:08 left in the third quarter, Michael Vick threw a touchdown to Maclin, narrowing the Giants lead to 14 points. 5 percent.
* At 8:23 left in the game, Giants TE Kevin Boss hauled in Eli Manning's fourth TD pass of the day. Less than 1 percent.
At this point, there was pretty much no reason why the Eagles would be able to win the game. It wasn't reasonably, or statistically, possible anymore. And yet...
* 30 seconds later Brent Celek answered with a 65-yard catch and run. 3 percent.
* Riley Cooper recovers David Akers's perfect surpise onside kick. 5 percent.
* With 5 and a half minutes left, Vick follows Max Jean-Gilles into the end zone, narrowing the score to 31-24. Game on! 9 percent.
* 2:50 on the clock, Vick scrambles 33 yards down the left sideline to extend the drive. 19 percent.
* Only 1:20 remaining -- Maclin makes a move and gets into the endzone. Tie game! But is there still too much time left on the clock? 37 percent.
* Trevor Laws sacked Manning and the Eagles defense held. With 14 seconds left, it was time to punt. 54 percent.
And the rest was history. What a remarkable and improbable comeback.