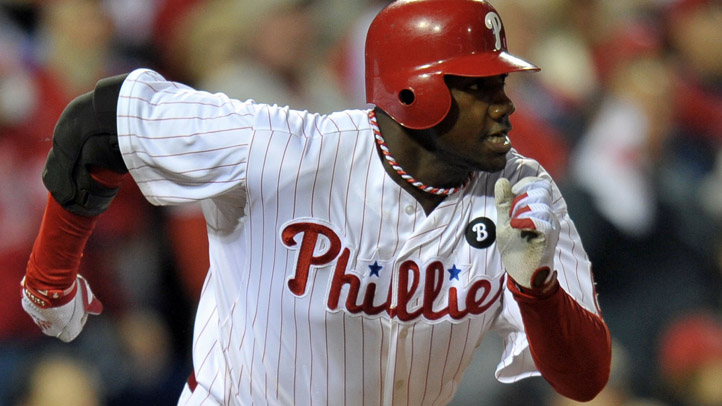 One of the chief criticisms of the 2011 (the only criticism, really) was the lineup's lack of power. Once boasting some of the most prolific power hitters of the last five seasons, the latter-day Phillies found themselves relying on manufacturing runs with walks and singles instead of mashing homers.

Not that is necessarily a bad thing. After all, on-base skills and the ability to make solid contact without power are still tools that every great hitter possess, but at the end of the day, the middle of the lineup needs to be able to crank out the longball. And in 2011, only two players (Ryan Howard and Raul Ibanez) had north of twenty longballs. Also, dingers are awesome. No, go look. See how cool that is?

So, it goes without saying that the health of Ryan Howard – specifically, the health of his rehabbing Achilles – is one of the biggest storylines of spring training.

The Big Piece, as Charlie Manuel affectionately refers to him as, has spent the better part of the last five months getting healthy, after he ruptured his left Achilles tendon on the final play of the 2011 NLDS, when he grounded out to second to end the Phillies' season.

And with the regular season just over a month away, all eyes are on Ryan Howard, who appears to be progressing ahead of schedule as he strives to get back on the field. In the early days of spring training, Howard has been jogging, fielding, and hitting, and if you didn't know any better, you wouldn't think this guy had a serious lower body injury less than six months ago.

In a press conference on Wednesday, Howard addressed the media and spoke about his rehab, where he sounded optimistic about his future:

"I feel good where I am right now. I mean, I don't know what everybody else's expectations for me were at this point, but I feel good."

Obviously, there is a healthy does of guarded optimism pertaining to Howard and his health, but the first baseman looks – and sounds – like he is progressing along, so much so that we can all feel at least a little bit better about his 2012 season. It's not enough to think he'll be back in the lineup on Opening Day (that would take nothing short of a miracle), but enough so that we won't have to deal with a platoon of Ty Wigginton and Jim Thome for too long.

With Chase Utley's health in question, Howard is the only big power threat in the lineup. Hunter Pence should be good for 20 or so, and Shane Victorino and Jimmy Rollins might just surprise you with their power, but not to the point where you could insert them in the middle of the lineup and expect 30 bombs.

Although pitching is the name of the game for the Phillies in 2011, and while they are still going to score enough runs to win (health permitting, of course), it's crucial for this team to find some power in the lineup. And fast.