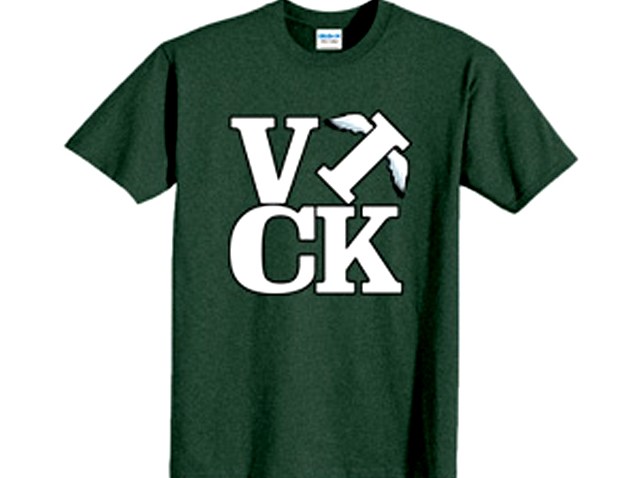 While bars filled up with groaning, angry, ranting Philadelphians last night, furious that their beloved Eagles signed with dog-fighting Michael Vick, the approving voices may have been speaking in a low whisper, but they were still there.
As Andy Reid spoke about second chances, a Web site with "Vick Love" Eagles T-shirts was already being passed around the cyber-world, stating that, "The football community in Philadelphia welcomes Michael Vick with open arms."
"Show your Vick Love," it states while displaying the name "Vick" on a shirt in the same way Philly's "Love" is written in the park.
NFL players from all over tweeted their approval, according to Mashable.com's Jennifer Van Grove. Through often misspelled messages, Vick's colleagues voiced their happiness about his new situation:
"Just got in from practice and seen on the tube that Vick signed a two-year deal with the Eagles CONGRADS to him," wrote Shawne Merriman of the San Diego Chargers.
"I think it's great Mike Vick has signed with the Eagles! Everyone deserves a second chance! The only person who can judge us is God," said Reggie Bush of the New Orleans Saints.
Obviously Reggie hasn't spent much time in Philly, where protesters are gathering this morning at the Four Seasons for Vick's 11 a.m. press conference (which will be live-streamed here) to judge the crap out of him.
"Vick is back! Coming to SD! Gonna be even more fun when the Eagles come to town!" the Chargers' Kassim Osgood tweeted.
Cincinnati Bengal Chad Ocho Cinco said that the Eagles will be a force to reckon with.
"Mike Vick and McNabb on the same team, damn!!!!! Glad I don't play defense, good luck planning to stop that Shh!!," he wrote.
And even the ASPCA had a positive spin on the man that was convicted on cruelty to animals charges:
"Commissioner Roger Goodell and the Philadelphia Eagles have granted Michael Vick a second chance, and the ASPCA expects Mr. Vick to express remorse for his actions, as well as display more compassion and sound judgment this time around than he did during his previous tenure with the NFL," the ASPCA stated in a press release.
"We hope that Mr. Vick uses his stature for the betterment of the community and the advancement of the issue of animal cruelty."
And even the grumbling, outraged Eagles fans that claim not to approve now – we doubt that sentiment will last. We've seen it before: You're Eagles fans first. If at any point this season McNabb is doing horribly, you'll be demanding that Reid put Vick into the game. You know it's true.
You'll be barking with approval if this guy gets you a championship.
Watch Vick's press conference here on nbcphiladelphia.com at 11 a.m.