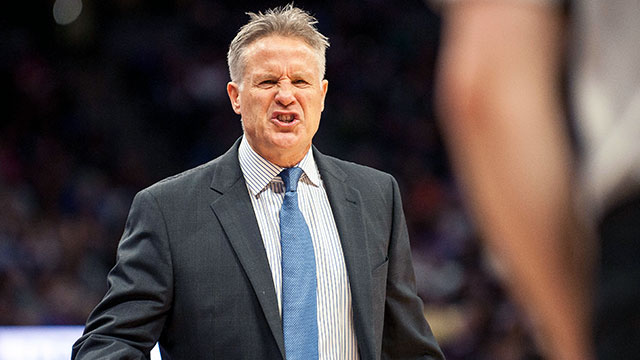 SALT LAKE CITY - On a night the Sixers face the Jazz, who are holding opponents to the lowest scoring average in the NBA, they are doing it without their leading scorer.
How will the Sixers tackle this defensively-savvy team with Joel Embiid watching from the sidelines of Vivint Smart Home Arena? It will be about movement and pace.
Philadelphia 76ers
Complete coverage of the Philadelphia 76ers and their rivals in the NBA from NBC Sports Philadelphia.
"It certainly isn't static, it certainly isn't one-on-one and it certainly isn't slow," Brett Brown said. "Or we're in for a long night."
The Jazz's defense plays into their 19-13 record and fifth standing in the Western Conference. They are limiting teams to 95.3 points per game (the Spurs are second at 97.9). They also rank second in opponent's field goal percent at 43.0 percent, edged out by the Warriors by just 0.1 percent.
The Sixers didn't come close to those numbers the first time they played the Jazz this season on Nov. 7. The Jazz won easily, 109-84, and held the Sixers to 40.3 field goal shooting. And that was with Embiid in the game.
"You really have to do things team-wise," Brown said. "Anything where a ball sticks does not favor us. Anything that's grinded out in half court does not favor us."
Brown is look for the Sixers are looking to be active with the ball against a Jazz team that is forcing a league-low 11.6 turnovers per game. That is favorable for the Sixers, who have been struggling with turnovers all season and average second-most in the NBA (17.1).
"You hope to play fast," Brown said. "You hope to share the ball. You hope to move people around. You hope to have tremendous action off the ball, whether it's violent cuts, whether it's a man screening, whether it's reading different nuances if they overplay things and taking some things out of the offense."
The Sixers have a daunting frontcourt to contain without Embiid (Noel will receive minutes in his absence). Seven-foot-one center Rudy Gobert is averaging 14.5 points, 13.1 rebounds and 2.7 blocks this month. Go further down the Jazz roster and find Gordon Hayward (22.4 points per game) and an experienced group of veterans.
"How would you like to have an offseason where you bring in Joe Johnson, Boris Diaw and George Hill?" Brown said. "I think they tripped on something special with [Rodney Hood]. … You take that core they've been growing. (Derrick) Favors has been around for a while and Hayward, he's a legitimate max-type player. Then you bring in those veterans and it's wreaks of a veteran team, it wreaks of a balanced team."
Copyright CSNPhily