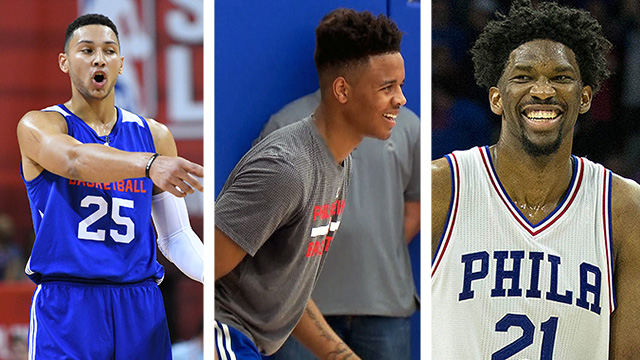 Philadelphia 76ers
Complete coverage of the Philadelphia 76ers and their rivals in the NBA from NBC Sports Philadelphia.
There are images, great and small, of past switchbacks in Sixers' history - of the moments when stars arrived (or were about to), and it was abundantly clear the franchise's fortunes were going to change for the better.
Or, as the kids like to say, when, uh, stuff was about to get real up in here.
Julius Erving, handed a doctor's bag (naturally), as he was introduced before the 1976 season opener in the old Spectrum … Moses Malone, meeting with the media in a storage room in the bowels of Veterans Stadium in the fall of 1982, before a Phillies game, of all things … Pat Croce, high-fiving other teams' bemused executives after winning the 1996 draft lottery (shown at the 3:04 mark in this video), secure in the knowledge he was going to select Allen Iverson.
There have been false starts along the way, to be sure - none bigger than the dog-and-pony show at the Constitution Center five years ago. But the less said about Andrew Bynum, the better.
It felt like another fulcrum Saturday night when Washington point guard Markelle Fultz staged a solitary workout in the team's practice facility (see story).
Never mind that there were some rough spots; Tom Moore of Calkins Media tweeted Fultz bricked 14 of 18 three-point attempts in one drill.
And nevermind that we're talking about a 19-year-old who is four years removed from the JV squad at famed DeMatha Catholic, in Hyattsville, Maryland. Or a guy that played for a 9-22 team in his lone college season.
This feels like a big moment, feels like The Next Big Thing.
The trade with Boston for the top overall pick in Thursday's draft is by all accounts going to go through, likely as soon as Monday (see story). Adrian Wojnarowski of The Vertical, as always the go-to guy for all matters NBA, reported the Sixers will surrender the third pick in this year's draft and either the 2018 first-rounder they acquired from the Lakers (protected 2-5) or the 2019 choice acquired from Sacramento.
Seems fair, all the way around.
Boston stockpiles assets in an attempt to make a run at Jimmy Butler or Paul George and doesn't muddle the backcourt picture that already includes Isaiah Thomas, Avery Bradley and Marcus Smart (with Thomas and Bradley poised to become free agents next summer).
And the Sixers get the best guy in this draft, as opposed to facing some thorny questions about the possibilities at No. 3. Would Lonzo Ball's dad be a pain in the butt (if the Lakers, holding the second overall choice, pass on him)? Would Josh Jackson's off-court issues be a preview of coming distractions? Can De'Aaron Fox shoot? Can Malik Monk do anything other than shoot?
None of that matters now. They will get their guy, with the help of assets acquired in the Sam Hinkie Era. (A pause here, while a certain segment of the fan base genuflects.) They have their nucleus and can watch it grow.
This is not to say that The Process ends here; it's just to say that it's at warp speed now, that basketball gypsies (to borrow Brett Brown's terminology) have given way to basketball thoroughbreds.
Now they've just got to get 'em out and run 'em.
This, of course, assumes good health, the all-time asterisk with this outfit. That Joel Embiid, who has played all of 31 NBA games to date, can hold up. That Ben Simmons, last year's top overall pick, has put his foot problems behind him. That Fultz, who missed six games last season with a knee issue, can avoid the time-honored tradition of the Sixers' top pick sitting out his entire rookie season.
It also assumes Brown can sort out who plays where. He has said he is wedded to the idea of Simmons being his point guard, but that was before Fultz became part of the equation. Will that still be the case, and if so, can Fultz adjust to playing off the ball? Or will the team play more conventionally? (Side note: There is an NBA club in Northern California that has shown it's possible, even prudent, to accommodate multiple playmakers, and is about to hang its second championship banner in three years.)
Even given those caveats, there would appear to be little downside. Fultz's story - told by, among others, Bleacher Report's Jason King in March and the Boston Globe's Adam Himmelsbach on Friday - actually echoes that of none other than Michael Jordan: high school JV one year, varsity star the next. (In Fultz's case, the process was hastened by a seven-inch growth spurt after that soph season; he now stands 6-foot-4).
He averaged 23.2 points, 5.9 assists and 5.7 rebounds last season for the Huskies while shooting 47.6 percent and 41.3 percent from three-point range.
Now he's The Next Big Thing.
And it would appear that big things await the Sixers as well.
Copyright CSNPhily