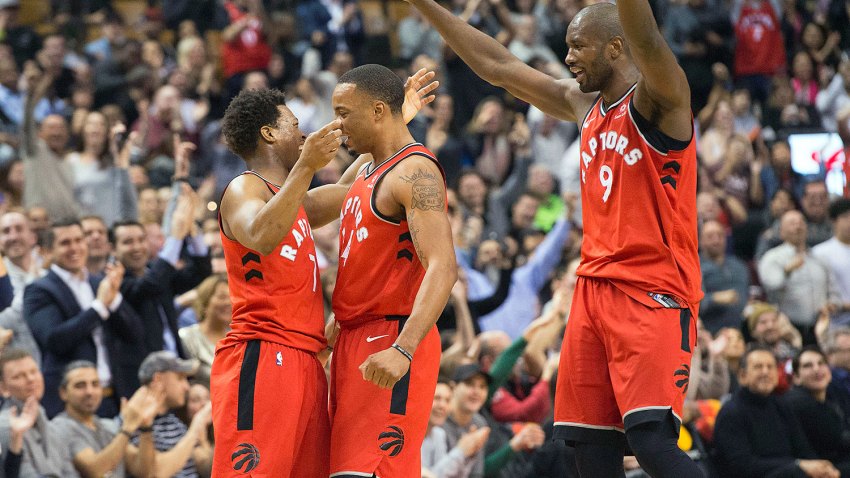 TORONTO -- DeMar DeRozan scored 27 points, Kyle Lowry had 22 and the Toronto Raptors beat the Miami Heat 115-112 on Tuesday night for their sixth straight win.
Toronto (40-16) improved its NBA-best home record to 24-4 and ensured it will be the top team in the Eastern Conference at the All-Star break. The Raptors lead Boston (40-18) by 1 1/2 games. Both teams play their final game before the break on Wednesday night.
Serge Ibaka had 14 points and 10 rebounds for the Raptors, who also won six straight between Nov. 25 and Dec. 10 and again between Dec. 13 and 23.
Philadelphia 76ers
Complete coverage of the Philadelphia 76ers and their rivals in the NBA from NBC Sports Philadelphia.
C.J. Miles added 11 points, but the Raptors failed to extend its franchise-record five-game streak of winning by 15 or more points.
Goran Dragic scored 28 points and James Johnson had 16 for the Heat, who lost for the sixth time in seven games. Dwyane Wade had 10 points and 11 rebounds and Hassan Whiteside collected 10 points and 10 boards (see full recap).
New-look Cavs ride LeBron's 37 points to victory
OKLAHOMA CITY -- LeBron James scored 37 points, and the new-look Cleveland Cavaliers got a much different result this time against the Oklahoma City Thunder in a 120-112 victory on Tuesday night.
It was Cleveland's second straight win since adding George Hill, Rodney Hood, Jordan Clarkson and Larry Nance Jr. in trades, and their fourth straight victory overall.
J.R. Smith added 18 points for the Cavaliers, who lost to the Thunder 148-124 on Jan. 20 with a very different roster.
Paul George scored 25 points and Carmelo Anthony 24 for the Thunder. Steven Adams added 22 points and 17 rebounds, and Russell Westbrook scored 21 points. Westbrook and Anthony had missed the past two games with sprained ankles.
James scored 14 points in the first five minutes of the third quarter, including two 3-pointers, to give Cleveland a 78-68 lead. He was 6 for 6 from the field during that stretch. The Thunder responded with an 8-0 run to get back into the game. Cleveland took a 91-87 edge into the fourth quarter.
The Cavaliers took control in the fourth, and a layup by James after driving on George pushed the Cavaliers ahead 115-106 with 49 seconds to play.
The Thunder trimmed their deficit to five in the final minute and could have come closer, but Alex Abrines missed a 3-pointer, and Nance got free for a dunk to seal the win for Cleveland (see full recap).
Middleton, Bucks notch sluggish win over Hawks
MILWAUKEE -- Khris Middleton had 21 points to lead a balanced attack for the Milwaukee Bucks, and All-Star forward Giannis Antetokounmpo hit two key buckets in the final three-plus minutes to spark a 97-92 win on Tuesday night over the Atlanta Hawks.
Tyler Zeller added 14 points on 7-of-9 shooting in his first game in Milwaukee since joining the team on the road before the trade deadline last week. The Bucks improved to 9-2 since Joe Prunty took over as interim coach following the firing of Jason Kidd, getting back in the race for a top-four playoff seed in the East.
Dennis Schroder scored 18 points for the Hawks, and Ersan Ilyasova had nine of his 15 points in the fourth quarter. Ilyasova spearheaded a late rally in which Atlanta erased a 12-point deficit and tied it at 84 on Kent Bazemore's 3-pointer with 3:30 left.
Antetokounmpo, who finished with 15 points and 15 rebounds, answered with a mid-range jumper and layup to open an 8-0 run. Schroder and Bazemore then whiffed on open layups following a steal with less than a minute left that could have helped the Hawks mount one last comeback (see full recap).
Copyright CSNPhily