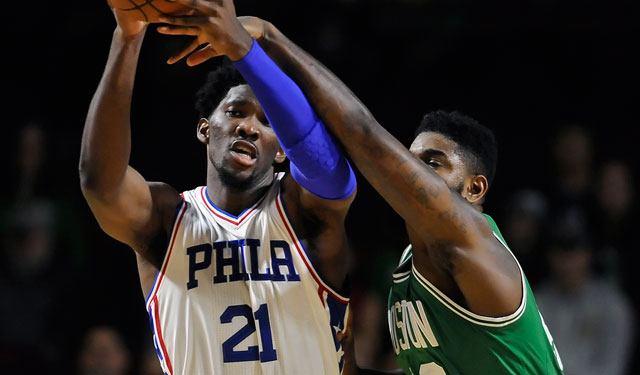 It happened. We saw it. It was real, and it was sporadically spectacular. Joel Embiid started an NBA game. Joel Embiid ended an NBA game. (A half early, true, but only because the team understandably decreed it so.) After two long years of process-trusting our faith was rewarded last night against the Boston Celtics, and the results were as astounding as we'd always hoped: 2-6 for six points with four rebounds, two blocks, and three turnovers in 13 minutes of game action.
Philadelphia 76ers
Complete coverage of the Philadelphia 76ers and their rivals in the NBA from NBC Sports Philadelphia.
All right, the line itself isn't particularly remarkable. What a 2-6, though: one of the makes on a beautiful post spin into the lane for a leaning jumper, and the other on a pick-and-pop jumper that c'mon you know that was actually a three. And just watching him out there, jab-stepping like R. Kelly on the perimeter, twirling his way over and around defenders in the high post, overwhelming with sheer size down low and drifting naughtily beyond the arc up top — there was an unspeakable joy to the it, the sheer sense of possibility at play, like Tommy getting all of his senses back at once. It was beautiful.
It was also unsustainable. Joel was given a 12-minute cap before the game — he ultimately played 13 — and the short leash was justified by Embiid's huffing and puffing by half's end, as unprepared for the extended rigors of an NBA game as you'd expect of a dude who hasn't played competitive ball in over two and a half years (and never at the pro level). Double teams seemed to leave him flummoxed — though how cool is it that he's already drawing doubles in his first 13 minutes of NBA action on any level? — and resulted in a handful of turnovers and lost possessions. He also looked a little slow at times, particularly switching on defense, and clearly has some work to do to get his feet back under him.
But despite a close call where he seemed to jam his knee (and took many collective lifetimes off the Sixers' fanbase in the process), JoJo showed us most of what we wanted to see from him, and he lived to tweet about it. There'll be so much more, good and bad, to go through every night with Embiid but all we really asked for tonight was a place to finally start from, and we go tit. We needed this. Oh, did we need this.
Felt great being back out there... Now we don't have the same amounts of points and minutes ha #TrustTheProcess pic.twitter.com/xhrSEgjAVO — Joel Embiid (@JoelEmbiid) October 5, 2016
Aside from JoJo, it was an up-and-down affair for the Sixers. You had to like most of what you saw from Dario — particularly the couple wide-open triples he nailed, looking fairly automatic when uncontested from deep — even if he did turn the ball over four times. Sergio Rodriguez also showed promise as our lead playmaker, even if there were times he couldn't penetrate past the Celtics' turtleneck-like perimeter defense, and even if he helped give Boston two extra chances at tying up the game late by giving the ball away just trying to get it in bounds. (We won the game, by the way — 92 to 89 — if you care about that sort of thing.)
Nik Stauskas and Gerald Henderson were terrible. T.J. McConnell couldn't get anything going against Boston's staring five but made hay with Nerlens Noel playing against the second-to-third C's units. Jerami Grant did Jerami Grant things at the basket, Robert Covington did Robert Covington things away from the basket, and Brandon Paul is the early leader in the club house for the honorary Malik Waayns / Casper Ware role of spunky guard we get way too excited about playing against fellow scrubs in October.
In other words, it was definitely a preseason game, and we got a whole bunch more of 'em coming up — starting with Thursday at home against Washington. We'll see if Embiid plays in two straight, or if Jahlil Okafor (who sat out tonight to continue resting his knee) makes his first sophomore-season appearance, or if Sam Hinkie rises from the dead to trade Nerlens Noel mid-game. Life is full of possibilities.
Copyright CSNPhily