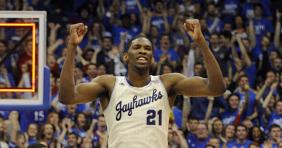 CAMDEN, N.J. - Joel Embiid is impacting the Sixers without yet playing full-court basketball. Embiid is limited to half-court 5-on-5, which is enough for him to make a difference.
"His physical presence and how competitive he is is a powerful combination," Brett Brown said. "You put somebody that competitive and that big on a court, he's different. And he changed practice today."
Philadelphia 76ers
Complete coverage of the Philadelphia 76ers and their rivals in the NBA from NBC Sports Philadelphia.
Brown said Embiid "looked good" as the center continues his recovery from knee surgery in March. The Sixers head coach noted the change in spacing when Embiid is on the court. Embiid is targeting Oct. 18, opening night, to make his return.
Timothe Luwawu-Cabarrot also participated in half-court 5-on-5. He has been dealing with right knee patellar tendinitis.
"Timmy looked like he hasn't played in awhile," Brown said.
Fultz's shooting a non-issue?
Markelle Fultz's shot has become a hot storyline in the first week of the preseason. The rookie is experimenting with his form, which has sparked video analysis and debate over his offense. So are people reading too much into these adjustments (which could end up being temporary)? Brett Brown thinks so.
"Everybody's looking into it. It's shocking to me," Brown said. "He's a young guy that's trying to come into the league and make improvements. All the other stuff that he does, people just really find interest in this.
"In some ways, I don't completely not understand it. But I feel like all the guys have had issues with trying to grow their game. Developing Markelle, for me, is obviously huge. We will continue to work on his shot."
Brown's 'soft spot' for Okafor
Jahlil Okafor was back on the court for practice Monday the day after participating in the team's scrimmage at the Palestra. Okafor, whose past season was cut short because of right knee soreness, said he felt "a little bit" sore Monday morning but was OK once he got warmed up in practice.
Sixers fans gave Okafor a loud ovation during the scrimmage, which wasn't lost on the third-year center.
"It was great to hear," Okafor said.
Brown also was glad to observe the fans' response. Okafor's time in Philadelphia has been up-and-down between injuries, trade talks and an inconsistent role.
"I have so much sort of personal affection for him and respect in the way that he's handled some things," Brown said. "He hasn't cried once. He comes in, he's a hell of a teammate … I've got a real sort of soft spot for Jahlil."
Redick learning the ropes
When players join a new team, usually it is the veterans who show them the ropes. In the case of JJ Redick, he was signed by the Sixers to be a veteran leader and still needs to learn his way around.
"I'm trying to figure it out," Redick said. "That's the only thing that's kind of been weird this week is just kind of dealing with the unfamiliar. It's been actually kind of fun. But it's been surreal at times kind of going through a different camp with a different program."
The 33-year-old Redick is entering his 11th NBA season. For such a lengthy career, he hasn't moved around the league that frequently. He played six-plus years for the Magic, 28 games for the Bucks, and the last four years for the Clippers. Redick signed a one-year, $23 million contract with the Sixers in July and hopes to be with the team beyond this season (see story).
"He has fit in great," Brown said. "I am so happy he is in this program."
Copyright CSNPhily