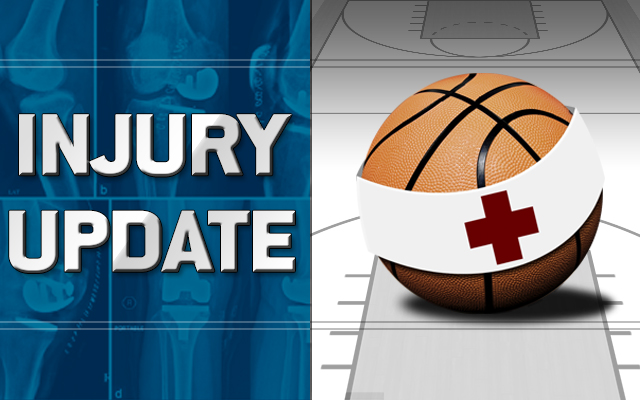 Nerlens Noel is expected to rejoin the Sixers on Thursday after practicing with their D-League affiliate, the Delaware 87ers, on Wednesday. Just how much on-court work he will do with the team remains to be determined.
Noel has not played yet this season after undergoing elective arthroscopic knee surgery in October. He completed the first phase of his rehab in Birmingham, Alabama.
Philadelphia 76ers
Complete coverage of the Philadelphia 76ers and their rivals in the NBA from NBC Sports Philadelphia.
"Slowly he's becoming a part of everything we're doing with weights and film sessions," Sixers head coach Brett Brown said before Wednesday's postponed game. "We've yet to have him on a court. It seems like it's any day now."
Noel has been participating in one-on-none and one-on-one activity. Brown recently got a teaser of what his team could look like when healthy.
"Just the other day we had Jo (Joel Embiid) and Nerlens playing one-on-one back here in Philadelphia," Brown said. "You all would've got a kick out of it. We had Ben (Simmons) on a stool throwing post feeds to Jo and Nerlens. It would've, I'm sure, erupted on Twitter if it ever gotten out. … Those three together and watching them and bringing Nerlens back in and having Ben be a part of it, I look forward to it."
Which brings us to the next injury update …
Simmons is continuing his rehab (right Jones fracture) with the Sixers at their training complex in Camden, New Jersey. The team has implemented a three-part rehab that hones in on health, education and shot improvement.
"He's doing great," Brown said. "That thing that we talked about where it's such a holistic thing — in film sessions with the team, in film sessions with me, on a court with our shooting coach, in a weight room with our strength and conditioning people, in a medical area that is just A-plus at our practice facility with all the physiotherapists, etcetera."
The Sixers still have not announced a date for his return. When Simmons is cleared, Brown has a vision of how to utilize the 6-foot-10 point-forward.
"My intention is to give him the ball and let him be the point guard," Brown said. "That's the plan. That doesn't just happen. It takes a little bit of time to introduce him."
About that point guard position …
Jerryd Bayless continues to deal with soreness in his left wrist. He missed preseason and the first 13 games of the regular season with the injury, and played only three games before being sidelined again. He was declared out for Wednesday's game that was postponed and is considered day to day.
Bayless described the discomfort as "a general kind of dull soreness." On Monday, he received platelet rich plasma (PRP) treatment to help his wrist.
"They take your own blood and they spin it," Bayless explained. "They take all the good cells and they shoot it back into your wrist."
In the meantime, Sergio Rodriguez is back in the starting lineup. Bayless was signed to be the starting point guard, but has done so only once. Rodriguez's role has been based on Bayless' availability.
"For me, it's not a big thing," Rodriguez said of changing roles. "Most of my career I start from the bench. It's not easy because you need to have a rhythm and it's not easy when you see teammates that cannot play because of their injuries. … As long as I play, I feel better."
Copyright CSNPhily