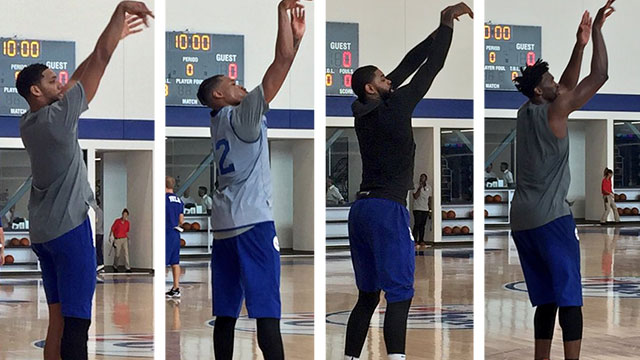 CAMDEN, N.J. - A group of Sixers gathered at the three-point line and moved around the arc for a spirited shooting drill. They trash-talked and bantered as each pulled up from long range, a sight one would expect from the overflow of guards or perimeter players.
Only this enthusiasm was coming from four centers - Joel Embiid, Richaun Holmes, Amir Johnson and Jahlil Okafor. The Sixers have tasked their bigs with incorporating three-point shooting into their practice routines.
Philadelphia 76ers
Complete coverage of the Philadelphia 76ers and their rivals in the NBA from NBC Sports Philadelphia.
"For the most part, all of our guys, it's not out of their wheelhouse to shoot threes," Brett Brown said Wednesday. "Apart from the fun, competitive side of it, it's the way our sport is trending."
The Sixers shot 34.0 percent from three last season, tying the Bulls for 25th in the league. They added shooters to their backcourt, most notably three-point wiz JJ Redick. Between the NBA's position-less basketball and the Sixers' unconventional lineup with a 6-foot-10 point guard in Ben Simmons, however, it is not unlikely to see centers stretching the floor and taking outside shots.
"We still recognize that we like getting the bigs the ball close to the rim," Brown said. "But when it does happen, we don't discourage it if they're wide open."
Jahlil Okafor and the bigs are draining 3s. pic.twitter.com/miudGqYAxQ— Jessica Camerato (@JCameratoNBCS) September 27, 2017
Of the group, Johnson has the most three-point experience. The 13th-year veteran expanded his game in 2013 and shot 40.9 percent with the Celtics last season.
Embiid was not shy to shoot treys as a rookie. He showed off his dream of being a guard by attempting 98 threes in 31 games (36.7 percent). Holmes also worked on drills after practice last season and shot 35.1 percent (27 of 77).
"We saw what Joel Embiid did last year," Brown said. "We've seen the growth that Richaun Holmes has made. Amir Johnson has effectively reinvented himself because he now has that truly, especially in the corners, in his arsenal."
As for Okafor, who also knocked down shots, don't expect that to become his new go-to move. He has made one three over his two-year career and didn't attempt any last season.
"That's probably having more fun than it will become a part of his game," Brown said. "But who am I to say it'll never be a part of your game? At this stage, it's not something that we would run a play for."
Injury updates
Okafor participated in 5-on-5 for limited parts of the scrimmage in Wednesday's practice. He missed the final 11 games of last season because of right knee soreness. Okafor had been restricted to 3-on-3 for the start of camp.
Embiid worked on shooting drills, cardio and resistance training in his rehab from left knee surgery.
Timothe Luwawu-Cabarrot (knee tendinitis) went through parts of practice and did not participate in 5-on-5.
Copyright CSNPhily