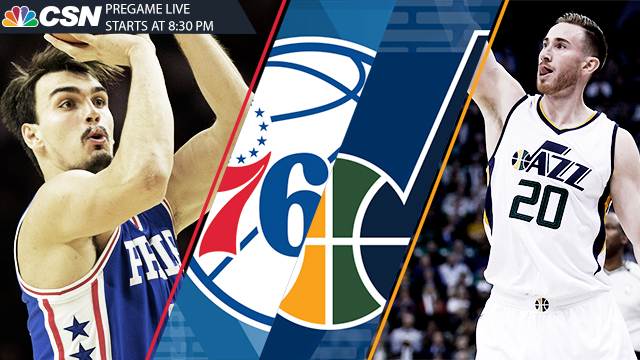 The Sixers (7-23) will get back to their four-game road trip when they battle the Utah Jazz (19-13) at Vivint Smart Home Arena on Thursday night (9 p.m./CSN, CSNPhilly.com and the NBC Sports app).
Let's take a closer look at the matchup:
Philadelphia 76ers
Complete coverage of the Philadelphia 76ers and their rivals in the NBA from NBC Sports Philadelphia.
1. Shuffle the deck
One man's loss is indeed another man's gain.
With Joel Embiid scheduled to sit out the first game of a back-to-back set on Thursday, Nerlens Noel will see more playing time.
Noel, who is averaging 4.2 points and 2.0 rebounds in 7.8 minutes per game, has experienced just about everything to this point in the season. He missed the first 23 games after undergoing knee surgery, returned to a limited role, was removed from the rotation after reiterating complaints about the logjam at center, and now is set to see an uptick in minutes.
"I see it as a good opportunity for myself to just go out there and showcase and be able to play my game and get up and down the court," Noel said after practice Wednesday. "Whatever the minutes are, I'll be able to just play natural and just play my game."
2. Have eyes on Hayward
Noel will have his hands full when he enters the game against Utah's big-man tandem of Derrick Favors and Rudy Gobert, but that's not the only challenge for the Sixers.
Gordon Hayward is more than capable of carrying the load for the Jazz and has proven that during a recent hot stretch.
Hayward is averaging 27.3 points, 6.6 rebounds and 3.6 assists over his last three games. That includes an effort of 31 points, nine boards and three helpers in the Jazz's 102-100 win over the Lakers on Tuesday.
Hayward has already proven he can do damage to the Sixers. He recorded 20 points with seven rebounds and five assists in a 109-84 Jazz win in the season's first matchup.
3. Third-degree burns
Speaking of the season's first meeting, the Sixers' focus on trying to contain Utah's big men came back to bite them.
They allowed the Jazz to connect on 11 of 19 (57.9 percent) three-pointers in the game. Rodney Hood and Dante Exum did most of the damage with four and three makes from beyond the arc, respectively.
The Jazz fire up 26.6 three-pointers a game, 12th-most in the NBA. They also have the eighth-highest three-point percentage at 36.2, so the Sixers need to be on alert for the deep ball if they want to snap their three-game skid.
4. Injuries
Richaun Holmes (concussion) is questionable. Embiid (rest), Gerald Henderson (hip) and Ben Simmons (knee) are out for the Sixers.
George Hill (toe) is questionable. Exum (knee) and Alec Burks (ankle) are out for the Jazz.
5. This and that
• The Sixers have lost 11 consecutive games in Utah.
• Jahlil Okafor led the Sixers with 15 points off the bench in the season's first meeting.
• Favors has averaged 11.9 points and 9.4 rebounds in 14 career games against the Sixers.
Copyright CSNPhily