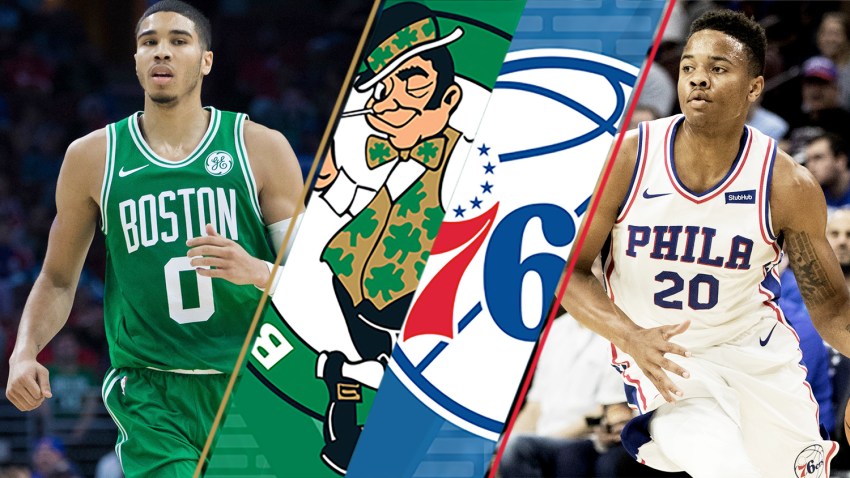 Sixers (0-1) vs. Celtics (0-2)
7 p.m. on NBC Sports Philadelphia, NBCSportsPhiladelphia.com and the NBC Sports app. Pregame Live at 6.
The Sixers (0-1) lost their season opener to the Washington Wizards on Wednesday in a fashion that has become quite familiar in reason years.
The Sixers stood toe-to-toe with the Wiz for most of the night, fell behind late, and then made a run in the final minutes only to come up short in a 120-115 defeat.
Philadelphia 76ers
Complete coverage of the Philadelphia 76ers and their rivals in the NBA from NBC Sports Philadelphia.
While an admirable effort against one of the Eastern Conference's elite teams, JJ Redick made it clear that moral victories are no longer acceptable (see story).
Now the Sixers are ready to host the Boston Celtics in front of what is expected to be a raucous crowd for their home opener at the Wells Fargo Center (see story).
Let's take a closer look at the matchup:
• What was all that chatter about a minutes restriction? Joel Embiid went well over what was expected to be his allotted time limit in the season opener when he played 26:57.
Afterward, both Embiid and Sixers head coach Brett Brown explained that this season, the center's minutes will be within more of a "range" and follow a "plan." Essentially, how much the big man plays will depend on his stamina and the flow of the game.
Embiid managed 18 points, 13 rebounds and three assists in the opener. However, he admitted there were areas that need improvement (he did commit four turnovers and was late on some defensive rotations).
• You had to like what you saw from Ben Simmons against the Wizards. He scored 18 points on 7 of 15 shooting to go along with 10 boards, five assists, two steals, one block and a single turnover.
More importantly, the point guard played with poise and conviction as he set up the Sixers' offense.
Sixers fans might not like the fact that several of the team's young players have missed what would have been their rookie seasons. However, there is something to be said about the advancement of a guy that has been around an NBA team for an entire year before playing a game.
• Before we get any further, let's hope for a speedy and healthy recovery for Gordon Hayward.
By now you know the All-Star forward suffered a gruesome leg injury just minutes into his Celtics' debut.
The C's will certainly miss his production and leadership this season.
• With Hayward now sidelined, there has been even more attention focused on Kyrie Irving's transition to the Celtics.
The star point guard started with a much-hyped return to face his former Cleveland Cavaliers. Irving played well in that one with a double-double of 22 points and 10 assists, but he couldn't connect on a potential game-tying three-pointer at the buzzer.
Irving followed that effort up with a dud in a loss to the Bucks. He scored 17 points on a rough 7 of 25 shooting, in addition to just three assists and three turnovers.
The Sixers can expect the scoring machine to try and regain his offensive rhythm right from the opening tip.
• Hey, remember when the Sixers and Celtics made a blockbuster trade involving multiple first-round picks and it was all anyone could talk about? Yeah, seems like forever ago now.
Just before June's draft, the Sixers sent the No. 3 pick and a future first-rounder to the Celtics in exchange for the No. 1 selection. The Sixers took that opportunity to select Markelle Fultz while Boston snagged Jayson Tatum, and the rest is history.
Well, much-scrutinized history. The two rookies will forever be linked and their production compared.
After an injury-filled offseason and camp, Fultz acquitted himself well in his debut. He shot 5 for 9 from the field for 10 points with three rebounds, an assist and a highlight block. Of course, there were also those awkward looking free throws (see story).
On the other side, Tatum has had it about as rough as possible in his first pair of NBA games when it comes to matchups. He started off with LeBron James in the Celtics' opener before coming back the next night and facing Giannis Antetokounmpo.
That hasn't been the best experience defensively, as both James and Antetokounmpo went off. But few men on the planet can handle those players.
Tatum has been productive in his first two games, particularly on the backboard. He's gobbled up an impressive 22 rebounds to pair with 22 points in two games.
With Fultz playing limited minutes off the bench, it would appear Tatum has the upper hand when it comes to opportunity. But we'll see what the No. 1 pick has in store for his first regular-season game in front of the home fans.
• Robert Covington made sure that you won't forget about him this season.
In search of a contract extension, Covington opened the 2017-18 season with a 29-point outburst against the Wizards that included seven threes.
We'll see what he can do for an encore.
• The Sixers took one of the four matchups last season with the top-seeded Celtics. Their lone win came in the final meeting, a 105-99 victory on March 19. Dario Saric led the way in that one with 23 points.
Copyright CSNPhily