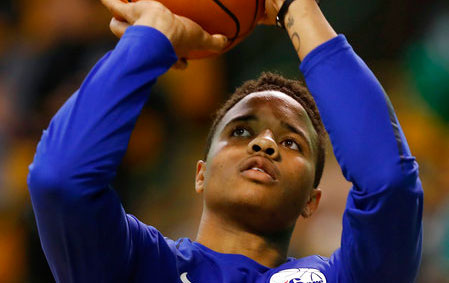 Markelle Fultz "literally cannot raise up his arms to shoot the basketball" and will see a shoulder specialist, his agent told ESPN Tuesday.
Fultz had fluid drained from the shoulder prior to the season.
"He decided to try and fight through the pain to help the team," his agent, Raymond Brothers, told ESPN's Adrian Wojnarowski. "He has a great attitude. We are committed to finding a solution to get Markelle back to 100 percent.
Philadelphia 76ers
Complete coverage of the Philadelphia 76ers and their rivals in the NBA from NBC Sports Philadelphia.
"From a basketball perspective, it's been encouraging to see that Markelle can get any shot he wants during the games, but he has been unable to shoot the ball."
Through four games, Fultz has averaged 6.0 points, 2.3 rebounds and 1.8 assists in 19.0 minutes. He's shot just 9 for 27 (33 percent) from the field and 6 for 12 (50 percent) from the line.
Copyright CSNPhily