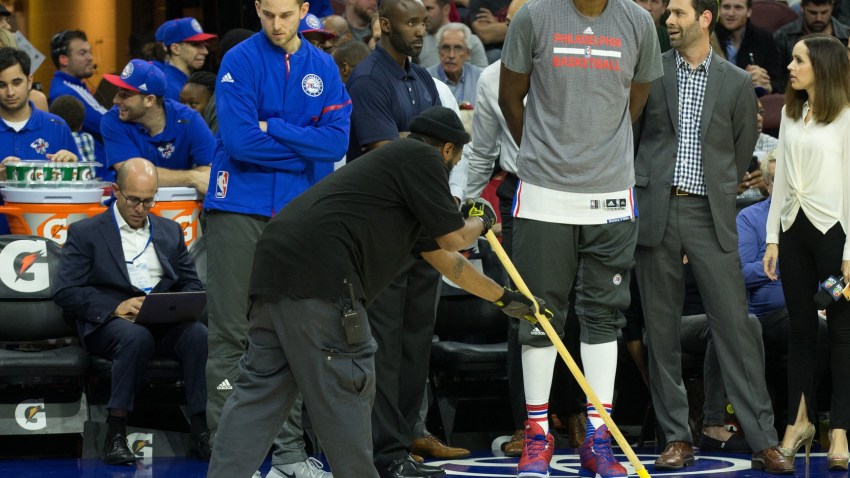 Philadelphia 76ers sharp shooter Nik Stauskas is back on his "Sauce and Co." podcast with a couple of very special guests: his Momma Ruta and Pappa Paul.
After being overly Canadian in their take on Friday night's brutal loss -- "less than stellar" -- to the Orlando Magic, Mr. Stauskas brings the heat with a fantastic "fun fact."
Philadelphia 76ers
Complete coverage of the Philadelphia 76ers and their rivals in the NBA from NBC Sports Philadelphia.
"Speaking of Joel, I have a fun fact for your audience here," Paul Stauskas says. "I have to give him a new moniker."
He doesn't exactly have a new one yet but...
"'The Process' has already been taken. In 2013 there was a documentary made about Nik called 'Nik Stauskas: The Process.' So if Embiid wants to continue using that, I'm affraid he's going to have to pay a royalty."
[Related: Joel Embiid feels 'The Process' is about him]
And if you hit up YouTube, there is is, a 21-minute documentary about a younger Nik Stauskas.
"If this does blow up, there may be some royalty fees he owes me," Nik adds. "I'll have to bring that up to Joel."
"He's got the cheddar," Paul says. "So he can pay up."
You can listen to the Stauskas family podcast in full below.
Copyright CSNPhily