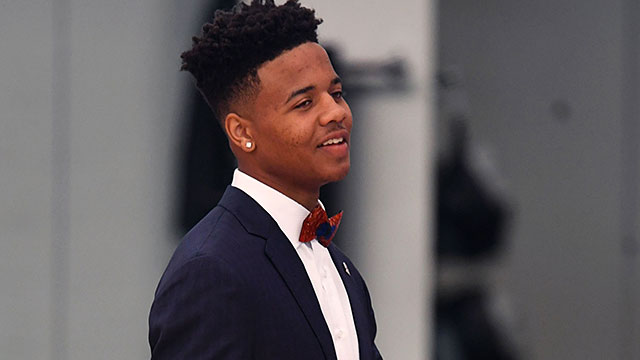 CAMDEN, N.J. - The life of a No. 1 overall pick can get pretty hectic, particularly during the summer heading into their first season.
Getting acclimated to a new city, making appearances, signing endorsement deals, etc. The list goes on forever.
Philadelphia 76ers
Complete coverage of the Philadelphia 76ers and their rivals in the NBA from NBC Sports Philadelphia.
Unless that top pick is Markelle Fultz.
"I did a lot of basketball stuff, just traveling around for basketball purposes," Fultz said of his summer during Sixers media day. "Of course being the No. 1 pick, a lot of stuff comes along with that."
"I just recently went back to Seattle to hang out with some of my college friends, but other than that, getting in the gym has been the most fun thing for me."
If there is one thing to know about Fultz so far, it's that he is constantly working to hone his craft.
Put aside the left ankle sprain he suffered in the Las Vegas Summer League that forced him to spend some time healing up and the 19-year-old spent virtually the entire offseason on the court.
"My summer's pretty much just been of course rehab for my ankle, which is way better now," said Fultz, who averaged 16.0 points, 3.0 rebounds and 2.3 assists in three summer league games before the injury. "Just learning the plays and just learning my teammates. Really just enjoying this process, having fun and getting ready.
"I stay in the gym 24/7. Even at home, I'm fortunate enough to have a basketball court outside. Just staying around the game, just playing, shooting trick shots as a lot of people know I like doing. Like I said, just trying to learn the plays to the best of my ability so I can be ready for the season."
Fultz's gym-rat mentality combined with his skill set is what ultimately made Sixers president Bryan Colangelo feel comfortable enough to send the No. 3 pick and a protected first-round pick to the Boston Celtics to move up to the top of the draft.
"We felt that that decision was the right one at the time and it's the right one now," Colangelo said of the deal. "Markelle is a tremendous young talent. He's got a high ceiling. He's very young, but certainly someone that we're excited to have in the fold with our young core of players that we've been bringing together."
While Fultz certainly fits into the team's mold of recent selections, it's how he meshes with previous No. 1 overall pick, Ben Simmons, that could ultimately decide how successful he is in Philadelphia.
Sixers head coach Brett Brown has made clear his desire to use the 6-foot-10, 230-pound Simmons as the squad's primary point guard. That means Fultz will get moved to shooting guard, a change he views as a plus and not a problem.
"I think I'll be comfortable with it. My main goal is just to do whatever I have to do to help the team win and if that's me playing on and off the ball, that's what I'm willing to do," Fultz said. "I think the success is going to be high really just because it's going to throw teams off. You don't know who's bringing it up, who's going to get it. I'm definitely looking forward to it."
Never lacking in confidence, Fultz reiterated on several occasions that his backcourt partnership with Simmons would work and that the Sixers would reach the postseason.
When you put in the tireless work on the court like Fultz does, you expect results.
"My first goal is always team first and myself, I always have to keep my confidence high," he said. "In order to be great, I set high goals for myself so that I can achieve them.
"It's not only my mindset. You ask any of my teammates, they're going to say the same thing - it's getting back to the playoffs, that we're going to make it. Really it's just the way I believe, the way I think. That's the way you have to think in order to change things around. In order to be successful, you can't think that you're not going to make it. Your chances of doing that are going to be low, so you have to believe it in order to do it."
Copyright CSNPhily