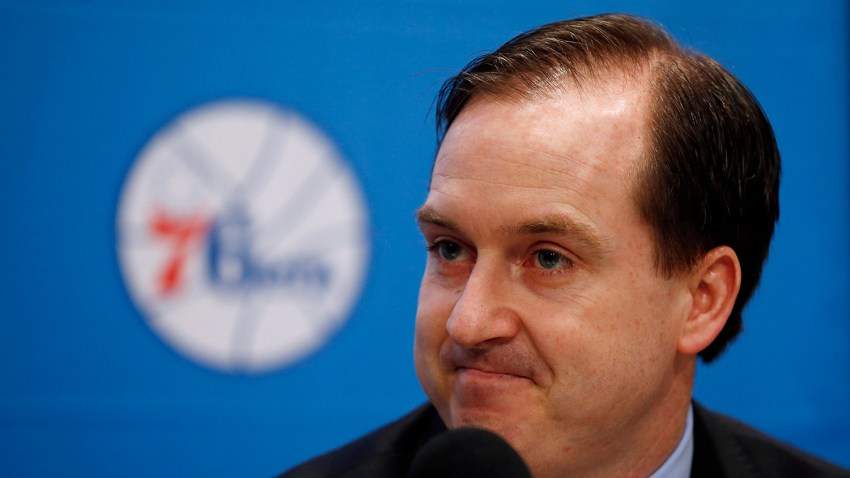 With Bryan Colangelo's resignation Thursday (see story), the Sixers are now left to find a new GM to guide arguably the most important offseason in franchise history.
When asked if Sam Hinkie could be Philly's next prodigal son, team owner Josh Harris didn't say no.
Philadelphia 76ers
Complete coverage of the Philadelphia 76ers and their rivals in the NBA from NBC Sports Philadelphia.
"We have a lot of respect for Sam and we appreciate how he's positioned our franchise," Harris said.
A general manager being cast off in a disrespectful fashion only to return to lead that same team to a championship sounds like a weak movie plot. Then again, it already happened once in this city when Howie Roseman lost a power struggle to Chip Kelly only to come back and make the Eagles Super Bowl champions.
Could it happen again?
"We're going to do our best to find the absolute best GM and moving forward the absolute best leader of this basketball organization," Harris said. "We need to start to think about that now. This last week has really been about moving as quickly as we could through this process."
To be fair, Harris just sounded like he was completely caught off guard by the question.
But the circumstances surrounding Hinkie's resignation were unceremonious. Could Harris and company view this as a chance to make good with the creator of "The Process?" Hinkie does already have a working relationship with head coach Brett Brown, who's been charged with leading the basketball ops on an interim basis.
Stay tuned.
More on Colangelo's resignation
• Josh Harris reveals results of investigation
• Colangelo releases bizarre statement on his resignation
• How Sixers actually benefit from Colangelo mess
• I believed Colangelo, too - and he still had to go
• Did Sixers fall behind in draft prep during investigation?
Copyright CSNPhily