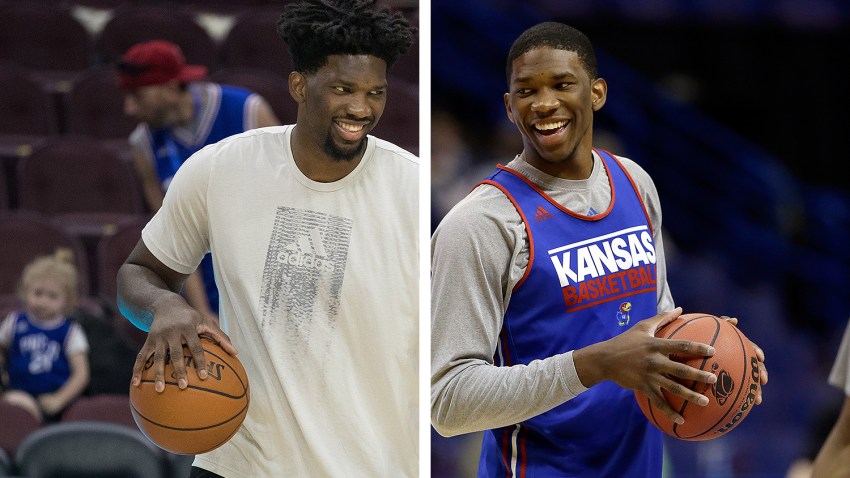 LAWRENCE, Kan. - Practice had long ended and Joel Embiid was still on the floor, putting up countless shots from every spot imaginable, the echo of each dribble seemingly bouncing off the walls of Allen Fieldhouse.
Maybe he was trying to make up for lost time, all those games he missed because of injuries.
Philadelphia 76ers
Complete coverage of the Philadelphia 76ers and their rivals in the NBA from NBC Sports Philadelphia.
Maybe he was just happy to be home.
Embiid returned to Kansas, where he starred for one brief season, and led the Sixers through a spirited workout before their preseason finale Friday night at Sprint Center in Kansas City.
It's been a memorable week for the 7-foot-2 standout. He signed a five-year, $148 million contract extension Tuesday, despite playing just 31 games over his first three seasons, then made his preseason debut on Wednesday night, pouring in 22 points in the Sixers' 133-114 win over the Nets (see story).
"It was a great feeling," Embiid said of Kansas after the workout, sweat still dripping from his face. "When I was here, I don't think anybody knows this story, but I actually decided to stay. I loved this place so much. I was actually pushed to leave. But I loved this place so much."
Wait a minute: Embiid decided to stay? He was ready to give up NBA riches for another year in college?
Who pushed him to leave after one season in Lawrence?
"I'm not going to say," he said with another smile, "but it was a tough choice. I still have a lot of love for Kansas, and every time I have a chance to represent, I'm going to do it."
The lanky, raw Embiid that arrived at Kansas as an unrefined post player from Cameroon in the hot summer of 2013 hardly resembled the solid, muscular Embiid that returned on Thursday.
Back then, he was still trying to make a name for himself. He was still learning the nuances of the game, which he had just picked up a couple years earlier. And while he wound up averaging 11.2 points and 8.1 rebounds, his college career ended with a thud when a stress fracture in his back forced him to miss the Big 12 Tournament and the opening rounds of the NCAA Tournament.
The Jayhawks were eliminated before he could return to the floor.
That June, he had surgery on a broken bone in his foot, shortly before the Sixers selected him with the third overall pick. He was supposed to miss about six months but wound up missing the season, then a setback the following summer and another round of surgery caused him to miss the 2015-16 season.
"At some point my second year," he said, "I thought about quitting, just because I had so much stuff not going my way, losing two years of basketball due to surgeries and injuries. But I'm glad I stuck with basketball. Looking where I am, I think I made a good choice."
He certainly made a lucrative choice, signing a mega extension even though he played in just 31 games last season. He averaged 20.2 points and 7.8 boards before knee trouble ended his year early, and forced him to undergo arthroscopic surgery for a torn meniscus in his left knee.
Embiid finally looks healthy, though. He came out of his preseason debut in good shape, and Sixers coach Brett Brown acknowledged Thursday that his big man "changes everything."
"He changes everything we talk about on offense and everything we talk about on defense," Brown said. "His spirit is at an all-time high. His personal situation, being rewarded with the contract he just signed I'm sure changes his life and many generations of Embiids behind him, or ahead of him, and you know, he's just a game-changer all over the place."
Embiid was supposed to take the Sixers' team bus to the Phog for practice, but he decided to walk over to the storied field house early. He wanted to drink in the atmosphere of college, pointing out that he still intends to return for his final three years of school, and remember what it was like to be just another kid trying to get from class to class.
Of course, these days just about everybody notices the NBA star in their midst, calling out "Trust the process!" to him as he ambled down the sidewalks leading toward Naismith Drive.
The Sixers were already scheduled to play the Heat in Kansas City on Friday night, so Brown decided it made sense to bring the team to Lawrence for practice. It would be a nice homecoming for Embiid, and a chance for backup Jacob Pullen - who starred down the road at Kansas State - to see some friends and family, and an opportunity for the rest of the team to see one of college basketball's shrines.
"I mean, this is my first time here and I'm the son of a coach," Brown said, "so I've been around the game my whole life, and the historic sort of perspective of this building combined with Joel's history here made it a no-brainer to drive 45 minutes down the road.
"I think the team appreciated and certainly respected where we are."
Brown wouldn't say whether Embiid will play in the Sixers' preseason finale, making it clear he wants to keep him healthy for the regular season. But Embiid didn't sound like he was planning to sit things out on Friday night, not with a building full of fans on hand to see him.
"I'm back in Kansas," he said. "Of course I'm going to play."
Copyright CSNPhily