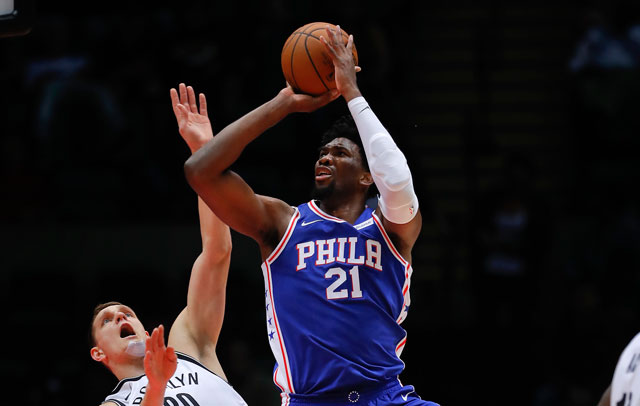 When the folklore is passed down from generation to generation about the Philaelphia 76ers' preseason victory over the Brooklyn Nets on a Wednesday night at Nassau Veterans Memorial Coliseum, it will probably go unmentioned how the game started as the rest of this preseason has for the Sixers: poorly, very poorly. It was 17-7 in a blink, with the Nets hitting threes from everywhere and the Sixers coughing the ball up like they were Julianne Moore in Safe. It seemed like we were on our way to having a long night on Long Island.
And then Joel Embiid checked into the game.

OK, that's only sorta how the game turned around. First off, the reversal of fortune really started when T.J. McConnell entered, quickly hitting two of his trademark mid-range leaners and steadying a previously unsteady offense. And second off, Embiid had already been in the game for a three-minute stretch, hitting his first jumper and grabbing a couple boards before being replaced by Amir Johnson -- and rolling his eyes so hard at the quick substitution he popped a couple blood vessels.

But wow. JoJo.

Embiid checked back in with 3:53 to go, meaning he played under seven minutes total in the first half. Before the buzzer sounded on the quarter, he'd scored 11 points and been to the line eight times, collected four boards and swatted one gigantic block -- and the Sixers were up 30-22, never to trail again. They went on to win 133-114 -- in a game that really wasn't even close to being that close -- with Embiid ultimately racking up 22 points, seven boards, three assists and that huge block in just 15 minutes of game action. Suddenly, everything makes sense with the Sixers again.

So you still want to know why the Philadelphia 76ers gave Joel Embiid $148 million, perhaps? Well, let's start with this: Last season, there were just 16 players in the entire league who drew at least 18 free throws in a single game -- two of whom were put on the line intentionally, and one of whom was JoJo himself. Well, Embiid did that last night, and he did it in just 15 minutes. There was simply no keeping him off the line last night, with the undersized Nets woefully unprepared to handle the size, athleticism and craftiness of the supposedly rusty Joel Embiid. (Lest we forget, The Process hadn't played competitively in over eight months -- he should still need, like, an adjustment period, or at least a ramp-up quarter, come on.)

But no -- Embiid was dominant all game, also hitting fadeaway jumpers, top-of-the-arc nearly-threes, and wing bankers. He even had a nice run in the third of allowing teammates to play off him, punctuated by a beautiful two-man game with Simmons that led to Jo feeding Ben on a baseline cut for an easy dunk. He wasn't quite as spirit-crushing on D as he is at his uppermost brutality, but soon the Sixers were running the score up with such giddiness that it wouldn't matter anyway. JoJo checked out for good with just under nine minutes left in the third, and Philly had already posted 87 by that point -- just two fewer than they managed in a full 48 against the Grizzlies a week earlier.

The only downside of his performance was that every time he made physical contact with another player and/or the ground, you nearly doubled over out of nausea. But that's just kind of how it is with The Process: He gives you basketball play like you never though possible in a Sixers uni, and in return you feel like you're being dropped in the Tower of Terror 20 times a game. It's not an unfair tradeoff, really.

Simmons, in his first start alongside Embiid, was hardly as immaculate, but also not without his own electricity. It's not his lack of a jumper that's so concerning -- although when he's given a wide-open six-footer in the lane and seems to have a panic attack deciding what to do, that's certainly not great -- it's his total lack of touch around the basket, his inability to manipulate angles or even impose to with brute force. But he jumpstarted the Sixers' offense in this one nearly as much as JoJo, finding Dario Saric for a couple clean early second-quarter threes that got him rolling in a major way. And get dude in transition and he is trouble: There was one look-ahead dish to J.J. Redick for an easy, open corner triple in transition that seems like it should be good for about six points a game, 82 games a season for this team. The possibilities are really breathtaking.
Philadelphia 76ers
Complete coverage of the Philadelphia 76ers and their rivals in the NBA from NBC Sports Philadelphia.
But remarkably, the team right now doesn't run best with Simmons at point, or with Fultz, who sat this one out, or even with Jerryd Bayless, who had a decent game in this one but has still yet to really impress this preseason. Nah, it's with grizzled vet Timothy John at the helm: Barking out directions, squirming his way into the lane for weird jumpers, finding his guys behind the arc and at the basket. He had 10 points and seven dimes in just 20 minutes in this one, totally changing the team's temperature when he checked in midway through the 1st, giving 'em a fluency and coherence they just don't have with anyone else manning the one right now. There may be some games when Bayless starts ahead of Fultz in the team's first five this season, but there may also be some when T.J. displaces Simmons.
As crucial as T.J. looks to this team right now, just about the exact opposite could be said for his good buddy Nik Stauskas. Poor Sauce just can't get it going right now, seemingly growing more exasperated with every reverse layup that spills off the rim, every triple that clanks off the back iron, every no-look pass that caroms off the intended's fingers. Will he be good someday? I still have to believe yes for our long-suffering Sauce, but he's really running out of time in Philly, especially with so many of our other wings -- TLC, Korkmaz, maybe even James Anderson -- seemingly passing him on the wing utility depth chart. A good Nik game would go a long way at this point.
And we should probably take a second to make more than a passing reference to Dario Saric's hot night. Dario's play in EuroBasket this summer had fans hoping that he'd managed to extend his shooting range, but a flat start to his preseason had dampened expectations a little. Then in the second quarter, he drilled four triples in a row, on his way to a team-high 26-point night, along with nine boards and three steals. This upcoming season, Saric will almost certainly have plenty of both games like last night and games like Monday's more bricktastic affair against the Celtics, but as long as he can be that X-factor-type player for the Sixers, who can swing a game when he really gets going, that's a huge weapon off the bench for a team that's been too lacking in starting-five excellence to even worry about having that kind of depth in recent years.
When the final buzzer sounded last night, though, all that really mattered was Embiid. He came, he cackled, he conquered, and he left the floor without suffering any obvious career- or life-ending injuries. Feels good to get our first win of the preseason, obviously -- one against a division rival with an improbable 3-0 record this preseason going into Wednesday -- but at this point, you have to say that any game that ends with JoJo smiling as wide as he did before tip-off Needs be considered a W for the Sixers. Having more points than the other team as well is just a bonus.
Copyright CSNPhily