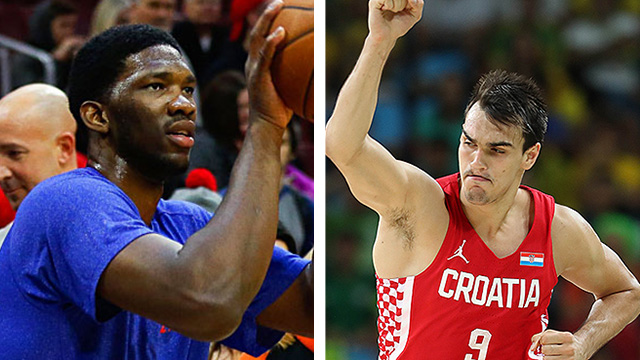 Sixers fans are no doubt disappointed that No. 1 overall pick Ben Simmons will not take the court Tuesday night in the team's first preseason game.
Philadelphia 76ers
Complete coverage of the Philadelphia 76ers and their rivals in the NBA from NBC Sports Philadelphia.
But if you're looking for good news, it appears that 2014 first-round picks Joel Embiid and Dario Saric will not only play against the Celtics, but head coach Brett Brown indicated that both will likely start.
Brown wasn't quite ready to name his starting five on Monday, though. Simmons was a lock and Jerryd Bayless, who clearly has the inside track on the starting point guard spot, is nursing a left wrist injury and doesn't appear ready to play. Saric has a minor back issue and Embiid will be on a minutes restriction.
But for Brown, just seeing Embiid out there after missing two seasons with two foot surgeries is a big deal.
"I want to watch him just run a floor," Brown said of Embiid. "To watch him make multiple trips up a floor in a 76er uniform — I don't care if it's preseason, regular season, whatever — to me personally, that's something that we've all waited for for awhile and there's just gonna be a tremendous amount of pride from what he's done to be able to do that.
"He's worked hard to do that. I'm proud of his efforts. I'm pleased for him. So that in itself, there's gonna be some level of a win watching him do that."
After almost three years of Vines and YouTube videos of Embiid against air or coaches under six-feet tall, the 7-foot-2 center is ready for his first NBA action. Despite a minutes restriction, Brown said he planned to start Embiid. He compared it to spending money, saying that he may spend all his money early.
Brown has noticed an extra hop in Embiid's step. Given some of the questions regarding Embiid's maturity, Brown also had a somewhat surprising observation about the 22-year-old Cameroonian.
"He's just got a bounce, got a smile, engaged, wants to be coached," Brown said. "He really has a chance to be a wonderful teammate and I think an amazing leader because he's got a personality (where) he's not afraid to speak his mind.
"He's got a defensive presence that lets him speak his mind with a little bit more sting and his talent level is gonna let people listen a little bit harder in general. I think that there's a leader emerging amongst what I'm seeing as well as what can be an exceptional player."
Embiid on Monday gave answers to questions that aligned with Brown's assessment. He talked about not just his own debut, but the importance of the team-building chemistry. He also talked about the difference between scrimmaging and going up against real NBA competition.
"It's different bodies with different ways to guard me and you learn," Embiid said. "I just want to learn as much as I can. I know I'll be on a minutes restriction but the time that I'll be out on the court I just want to learn everything I can."
The hype for Saric may not have reached Embiid's level, but it was certainly palpable. Saric spent the last two seasons playing in Turkey with Anadolu Efes and enjoyed some success with the Croatian national team during the Rio Olympics.
Saric was in line for a decent role, but he may be the biggest beneficiary of Simmons' injury (see story). A spot has opened up at the four and while Saric by his own admission isn't a player of Simmons' caliber, the two do share a similar skill set.
Saric isn't concerned with his back injury, which he's been getting treatment for. He said he'll "be so happy" if he's given the opportunity to start on Tuesday and that he's ready to go.
"I have a little pain but it's my first NBA game and I'm excited," Saric said. "Try to put my injury in this moment to the side because it's not so serious."
Brown has reasonable expectations for the 22-year-old.
"I'm asking him to be him," Brown said. "I'm asking him to do what he did with Efes, with Croatia. To live in just a nice, solid world and complement Nerlens (Noel), and complement Joel, and Richaun (Holmes) and whoever else comes in. I think that he's very mindful of fitting in. He's mindful of coexisting. Both offensive and defensively. So I can see that's his DNA, that's his personality."
Sixers fans have been eagerly anticipating the debuts of both Embiid and Saric. The only people that are more eager are the players themselves.
"You say 'it's just a preseason game' but for me it's my first NBA game," Saric said. "It doesn't matter if it's [a preseason game] or not. (Whether) it's [preseason] or a regular game, I'm very excited for my first time against an NBA team. "
Embiid wasn't sure if nerves would be a factor, but he's certainly anxious to get out there. On Monday he was reminded that the last time he played a basketball game was in March of 2014.
"Almost three years? Yeah, that's a long time," Embiid said. "But like I said I went through a lot of stuff to get here. I worked my ass off and I'm happy that I'm finally here and I can't wait for tomorrow."
Copyright CSNPhily