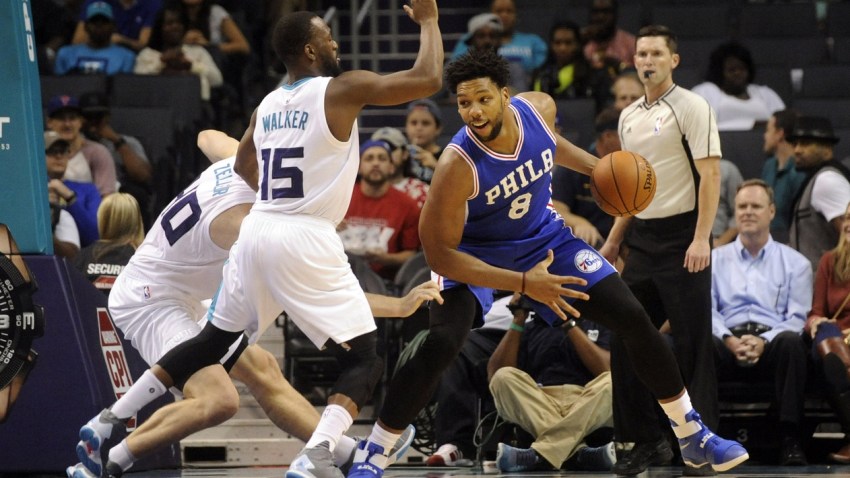 Sometimes people are strange. NBA players are people after all.
So upon first hearing that Jahlil Okafor sometimes takes a train all the way to New York City to see a movie, you scratch your head and think it's a weird thing to do -- and it kind of is! -- but also sometimes people do strange things that make them happy. And that's okay.
And maybe he has a good reason for it. Or maybe he makes a day out of it.
Philadelphia 76ers
Complete coverage of the Philadelphia 76ers and their rivals in the NBA from NBC Sports Philadelphia.
As Deadspin's Dan McQuade, purveyor of all things Philadelphia, points out: center city Philly doesn't have the best movie theatre options. The Ritz jawns are nice with amply buttered popcorn but not if you're looking to watch a big budget movie like Star Wars on iMax. I've been known to personally drive out from center city to King of Prussia or over to Cherry Hill (not my fave), to watch an action flick, so Okafor taking it a couple of steps further up to NYC isn't as preposterous as it sounds at first.
And maybe he has a favorite dinner spot in NYC he likes to make a night of with a good movie in tow. Maybe he likes to grab a slice of vegan pizza that is only available in New York. Who knows?
Then there's Jah's reasoning for enjoying movies so much which makes total sense.
"People want to know why I like going to the movies so much," Okafor says. "If I was a psychologist and I had to evaluate myself, maybe I like how dark the room is and I'm able to sit there like a normal person and not be bothered and just enjoy watching a fantasy."
I agree! There's something about a movie theatre, perhaps the no cell phone policy, that makes it a wonderful escape from all of the noise and tweets from the outside world.
So maybe Jahlil isn't as weird as you think. He just likes what he likes and he likes it where he likes it. That just so happens to be a couple of hour train ride away.
Copyright CSNPhily