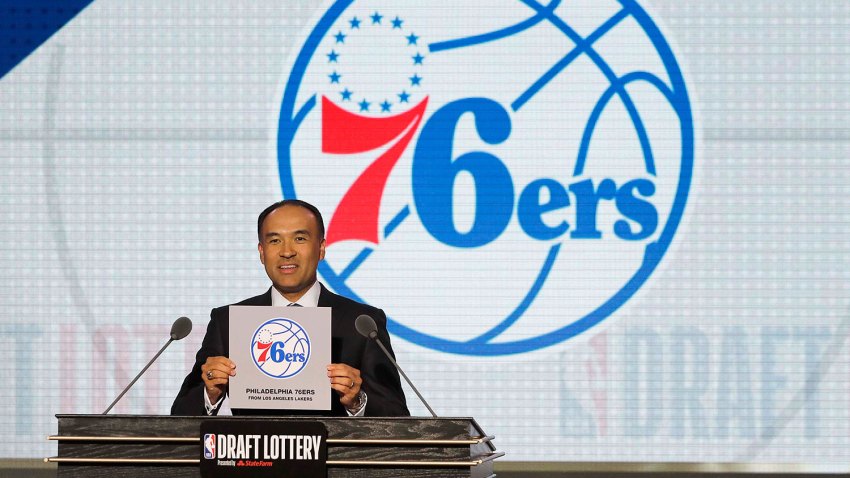 So you're telling me there's a chance.
After finishing 39-43 this season, the Sacramento Kings have a one percent chance to win the NBA draft lottery Tuesday night.
Philadelphia 76ers
Complete coverage of the Philadelphia 76ers and their rivals in the NBA from NBC Sports Philadelphia.
Why does that affect the Sixers? Because the top-10 protected pick that was acquired in the 2015 trade that brought them Nik Stauskas, Carl Landry, Jason Thompson, and the now-infamous pick swap, is no longer protected. Thanks, Sam Hinkie.
Of course that pick was traded to the Celtics to acquire the No. 1 pick, which the Sixers used on Markelle Fultz. It's protected, but the only way the pick conveys to the Sixers is if it's No. 1 overall. Thanks, Bryan Colangelo.
How to watch: 8:30 p.m. on ESPN
If a miracle does occur and the Kings get the first pick, Boston would then receive the Sixers' first-round pick, 25th overall. The much more likely scenario is that Sacramento's ping pong balls net it one of the last lottery spots.
Using the super fun site tankathon.com, you can simulate the lottery. You have to go through a ton of simulations to get the Kings' pick any higher than No. 14. All things considered, that pick not landing in the top 10 has to be a sigh of relief for Sixers fans. The Celtics could theoretically get two top-10 picks if both the Kings' pick and the first-rounder they're getting from Memphis - which is top-eight protected - convey.
Unlike in years past, it's more about rooting against Boston to get those picks than holding on to the slim chance the Sixers could get the first pick. Though Duke's Zion Williamson would be a ton of fun to watch here.
If you're feeling a sense of nostalgia for The Process days or looking to drown your sorrows from the Game 7 loss, you can attend the Rights to Ricky Sanchez's final draft lottery party at XFINITY Live!
Click here to download the MyTeams App by NBC Sports! Receive comprehensive coverage of your teams and stream the Flyers, Sixers and Phillies games easily on your device.
More on the Sixers
Copyright CSNPhily