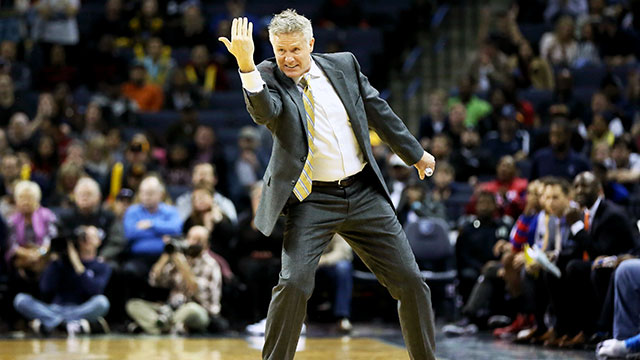 With training camp starting next week, our resident basketball analysts will discuss some of the hottest topics involving the Sixers.
Running the Give and Go are CSNPhilly.com Sixers Insider Jessica Camerato and producer/reporters Matt Haughton and Paul Hudrick.
Philadelphia 76ers
Complete coverage of the Philadelphia 76ers and their rivals in the NBA from NBC Sports Philadelphia.
In this edition, we discuss the biggest challenge for head coach Brett Brown this season.
Camerato
For years Brett Brown has faced the challenge of piecing together a shorthanded roster to put some kind of, any kind of, rotation on the floor. This season he will have healthier players to work with, and that in itself will pose a different set of challenges.
Brown has a young roster that is eager to play. Former No. 1 pick Ben Simmons has been waiting nearly 12 months to make his NBA debut since suffering a Jones fracture on the last day of training camp. Markelle Fultz, this year's top pick, has not played since mid-February as a student-athlete at Washington. Joel Embiid last suited up on Jan. 27 before undergoing season-ending knee surgery.
These hungry players, and it is not limited to only the three mentioned above, will want to be in the game as much as possible. Brown will be tasked with managing eagerness and anxiousness to play all while following medical guidelines and restrictions. Lineups could change from a night to night based on player availability (back-to-backs, rest, etc.). Brown will have to establish consistency and flexibility at the same time, also keeping his players on board even if they can't be on the court as much as they would like to be.
Haughton
Brett Brown will face a whole new world as head coach of the Sixers in 2017-18. He'll have to find a way to make a rookie backcourt work, mix contributing veterans into the fold and, for the first time in his tenure, face some semblance of pressure to win.
But Brown's biggest obstacle next season has nothing to do with X's and O's or wins and losses. The coach must maintain the spirit of the process.
At first glance, you may think that has something to do with continuing to lose games for the highest possible draft pick. No, not at all. In fact, it's quite the opposite.
In Brown's four years at the helm, the Sixers have lost a combined 253 games. Some close, some by a wide margin and far too many of the nightmarish variety.
But no matter the previous game's score, Brown always had his players on the court for the next matchup ready to give their max effort. His ability to stay positive amid the mounting losses and still push his guys to play all out every single night is somewhat remarkable (see story). It's what the players love about him the most.
The egos that go along with high-level talent and the pressure of playoff aspirations mean Brown is sure to encounter some new challenges. However, it may just be that process mentality that gets the Sixers fully over the process.
Hudrick
For the last four years, Brown has barely had enough healthy players to form an entire team. And even when he had healthy players, most of them were borderline D-Leaguers (now G-Leaguers, of course).
The blessing and the curse for Brown this season is having real, NBA talent up and down his roster.
Nerlens Noel is gone so the logjam at center is over, right? Nope. Embiid is your starting center and franchise cornerstone. Richaun Holmes proved last year that he is a capable backup at the pro level. Jahlil Okafor is still here and needs to prove he's healthy if the Sixers hope to move him. Oh yeah, the team also went out and signed veteran Amir Johnson away from the Celtics. The uncertainty behind Embiid's status means there will be minutes available, but how many? Bottom line: This team still has four NBA-caliber centers.
The newest challenge for Brown is an overabundance of guards/wings. With Fultz, JJ Redick and a now healthy Jerryd Bayless added to the mix, where does that leave T.J. McConnell, Timothe Luwawu-Cabarrot, Nik Stauskas, Justin Anderson and Furkan Korkmaz?
Sure, it's a nice problem to have, but figuring out the rotation on an improving roster will be the biggest challenge for Brett Brown this season.
Copyright CSNPhily