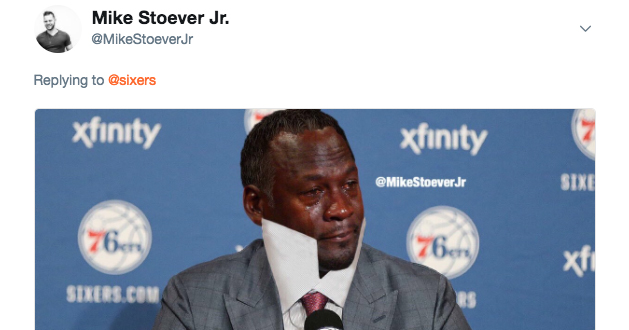 Sixers Twitter has been waiting and waiting and waiting. After nine days of waiting, the news finally arrived and Twitter showed up for it.
Bryan Colangelo resigned Thursday from his post as president of basketball operations after the conclusion of a week-long investigation. The Sixers' official page broke the news in this tweet, which included a statement from 76ers managing partner Josh Harris.
Philadelphia 76ers
Complete coverage of the Philadelphia 76ers and their rivals in the NBA from NBC Sports Philadelphia.
Statement from 76ers Managing Partner Josh Harris: pic.twitter.com/eCmz42FD7P— Philadelphia 76ers (@sixers) June 7, 2018
And Twitter, well, had something to say about it. We sifted through some of the Sixers' hundreds of mentions from this post and let's just say, people are quite creative.
Here are some of the best responses:
pic.twitter.com/piqEPfLdfF— 𝔀𝓱𝓲𝓽𝓮 𝓲𝓿𝓮𝓻𝓼𝓸𝓷 🤙👊 (@___whiteiverson) June 7, 2018
pic.twitter.com/ZLvNrb8ju9— aaron (@gibbsgrice) June 7, 2018
pic.twitter.com/1fnpmeHBdT— Mike Stoever Jr. (@MikeStoeverJr) June 7, 2018
Bc did nothing wrong pic.twitter.com/H90nePh86Q— eric jr (@_AJS_14) June 7, 2018
pic.twitter.com/t56S9dTN0G— Alec (@AlecA007) June 7, 2018
pic.twitter.com/A2w2zDfICC— Nick Ruff (@Nick_Ruff12) June 7, 2018
I gotchoo. #TrustTheProcess pic.twitter.com/syQXHKKTHx— Mad Cheddar (@Mad__Cheddar) June 7, 2018
pic.twitter.com/0Hq5EzCmn4— John Sabatini (@J_SAB_) June 7, 2018
Sixers Twitter remains undefeated.
Copyright CSNPhily