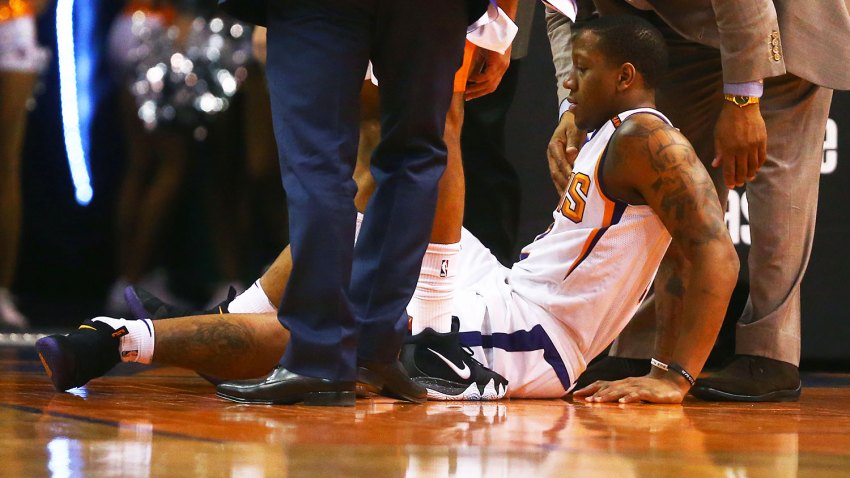 PHOENIX -- Rookie forward Josh Jackson matched his career best with 21 points, T.J. Warren added 20 and the Phoenix Suns snapped a five-game losing streak by beating Dallas 102-88 on Wednesday night, handing the Mavericks their fifth loss in a row and eighth in nine games.
Phoenix backup point guard Isaiah Canaan broke his left ankle in a gruesome injury late in the first quarter.
Marquese Chriss added 15 points and 12 rebounds for the Suns, who beat Dallas for the fourth time in a row dating to last season.
Philadelphia 76ers
Complete coverage of the Philadelphia 76ers and their rivals in the NBA from NBC Sports Philadelphia.
After missing Monday night's game in Memphis with bruised ribs, Devin Booker was back starting at point guard for Phoenix and scored 15 points.
Dennis Smith Jr. scored 17, Harrison Barnes 15 and Dirk Nowitzki 14 for the Mavericks, who shot just 36 percent (see full recap).
Blazers' McCollum nets 50 points in just 3 quarters
PORTLAND, Ore. -- CJ McCollum scored a franchise-record 28 points in the first quarter and finished with a career-high 50 through three periods before heading to the bench, and the Portland Trail Blazers took advantage of the short-handed Chicago Bulls for a 124-108 victory Wednesday night.
McCollum's 28 points in the opening quarter were the most in the NBA this season. His final tally was nine points shy of the team record set by Damian Lillard last season.
Lillard also sat out the final period after adding 13 points and seven assists for the Blazers, who led by as many as 29. It was Portland's fourth straight win overall, a season high, and the club's eighth in a row at home.
Zach LaVine had a season-best 23 points in Chicago's fifth consecutive loss.
Lauri Markkanen was not with the Bulls because he was attending to a personal issue, the team said. The rookie is averaging 15.3 points and 7.7 rebounds per game. Paul Zipser started in his place.
Kris Dunn, averaging 13.7 points and 6.4 assists, missed his sixth straight game after a concussion.
The Bulls decided to sit forward Nikola Mirotic while he reportedly seeks a trade. Coach Fred Hoiberg said before the game that the 6-foot-10 forward remained back at the team hotel. Meanwhile, rumors swirled that the Bulls had a deal with the Pelicans but it fell apart (see full recap).
Cavaliers survive in 1st game without Love
CLEVELAND -- LeBron James scored 24 points, Jae Crowder made a go-ahead 3-pointer with 1:21 left and the Cleveland Cavaliers began a long stretch without injured All-Star Kevin Love by holding off the Miami Heat 91-89 on Wednesday night.
The Cavs rebounded from a troubling loss at Detroit -- Cleveland gave up 125 points to the undermanned Pistons -- and prevented the Heat from overtaking them for third place in the Eastern Conference standings.
Cleveland played its first game since Love broke his left hand against the Pistons. The five-time All-Star is consulting with surgeons in New York, and it's possible he'll undergo an operation as early as Thursday. Love, who could miss two months, already has screws in the hand from a previous procedure after he broke it in 2009 with Minnesota.
While he's out, the Cavs have to hold themselves together.
Goran Dragic scored 18 and Josh Richardson 15 to lead the Heat, who went just 3 of 28 on 3-pointers.
Miami had a last chance after Cleveland's Kyle Korver made one of two free throws with seven seconds left, but Heat forward James Johnson, harassed by James on the baseline, couldn't get off a shot before the horn sounded (see full recap).
Copyright CSNPhily