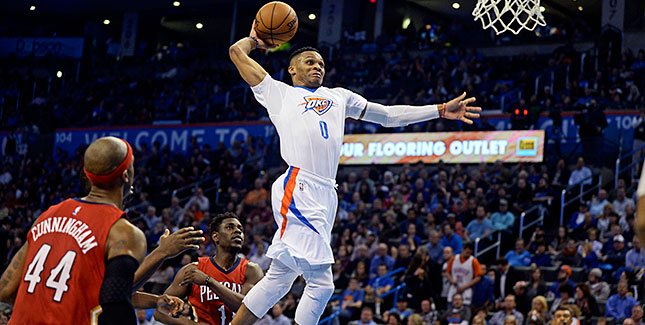 OKLAHOMA CITY -- Russell Westbrook scored 14 of his 35 points in overtime and posted his fourth consecutive triple-double to help the Oklahoma City Thunder defeat the Washington Wizards 126-115 on Wednesday night.
Westbrook added 14 rebounds and 11 assists for his ninth triple-double this season and the 46th of his career. The Thunder have won all four games during his triple-double streak, and he heads into December averaging a triple-double on the season.
Philadelphia 76ers
Complete coverage of the Philadelphia 76ers and their rivals in the NBA from NBC Sports Philadelphia.
Former Thunder coach Scott Brooks returned as Washington's coach, and the Oklahoma City crowd greeted him warmly. Brooks coached the Thunder for seven years and led them to the Western Conference Finals three times and the NBA Finals once.
Bradley Beal scored 31 points, John Wall had 15 points and 15 assists, and Marcin Gortat added 12 points and 11 rebounds for the Wizards, who had won three of four (see full recap).
Knicks off Towns (47 points), Timberwolves
MINNEAPOLIS -- Kristaps Porzingis had 29 points and eight rebounds in a thrilling duel with Karl-Anthony Towns, helping the New York Knicks beat the Minnesota Timberwolves 106-104 on Wednesday night.
Carmelo Anthony capped a quiet night with a game-winning 18-footer over Andrew Wiggins with 2.3 seconds to play, helping the Knicks avoid what would have been an epic collapse in the fourth quarter.
Towns had a career-high 47 points and 18 rebounds for the Wolves, who tied the game in the final minute after trailing by 17 with 7:30 to play.
But Porzingis threw Gorgui Dieng aside for a putback slam and Anthony tipped the inbounds pass on Minnesota's final possession to thwart the comeback (see full recap).
Balanced Pistons notch high-scoring win over Celtics
BOSTON -- Kentavious Caldwell-Pope scored 25 points and Tobias Harris had 21 to lead balanced scoring that carried the Detroit Pistons to a 121-114 win over the Boston Celtics on Wednesday night.
Andre Drummond added 20 points and 17 rebounds, one night after he was ejected in the second quarter of a victory at Charlotte for a flagrant-2 foul.
Isaiah Thomas paced the Celtics with 27 points, and Kelly Olynyk scored a season-high 19. Boston had won five of seven.
Marcus Morris had 20 points and Ish Smith 19 for the Pistons, who had lost eight of their first nine road games before winning away from home on consecutive nights.
Detroit used a 9-0 spree midway through the fourth quarter to open a 103-95 edge with 5:08 to play after Boston went on an 11-0 run to take its first lead since early in the opening period. Morris and Harris each hit a 3-pointer during the Pistons' spurt (see full recap).
Copyright CSNPhily