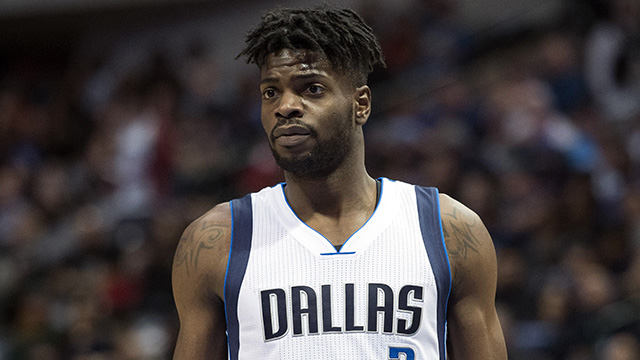 DALLAS -- Harrison Barnes scored 19 points and Dirk Nowitzki had 18 points and nine rebounds as the Dallas Mavericks ended a three-game losing streak by beating the New Orleans Pelicans 96-83 on Saturday night.
The Pelicans fell to 0-2 since trading for DeMarcus Cousins and pairing him with Anthony Davis.
Philadelphia 76ers
Complete coverage of the Philadelphia 76ers and their rivals in the NBA from NBC Sports Philadelphia.
Davis had 39 points and 14 rebounds but scored only 12 in the second half. Cousins finished with 12 points and 15 rebounds.
Seth Curry scored 10 of his 13 in the fourth quarter to help Dallas pull away. His 3-pointer with 4:49 to play gave the Mavericks an 84-72 lead, and the Pelicans never got closer than six after that (see full recap).
Harden leads Rockets past Timberwolves in 142-130 shootout
HOUSTON -- James Harden had 24 points and 10 assists to lead the Houston Rockets to a 142-130 victory over the Minnesota Timberwolves as both teams set season scoring highs in a Saturday night shootout.
Houston won for the sixth time in seven games, handing the Timberwolves their first road loss in more than three weeks.
Minnesota committed a season-high 25 turnovers that led to 38 points for the Rockets.
Playing against Houston's guard-heavy rotation, Minnesota went inside all night and outscored the Rockets 68-44 in the paint. Karl-Anthony Towns had 37 points and 22 rebounds, and Andrew Wiggins added 30 points (see full recap).
Bulls benefit as James sits with strep, beat Cavs 117-99
CLEVELAND -- Dwyane Wade scored 20 points and Jimmy Butler recorded a triple-double, leading the Chicago Bulls to a 117-99 victory Saturday night over the Cleveland Cavaliers, who played without LeBron James.
James missed the game with strep throat, and coach Tyronn Lue said he wasn't sure how long the Cavaliers would be without the four-time MVP. Cleveland struggled as it often does without its star - they are 4-19 without him since he returned to Cleveland in 2014, including 0-4 this season.
Chicago has won all three games against Cleveland this season. It took advantage of James' absence to win its fourth straight overall (see full recap).
George ejected, Heat stay hot with 113-95 win over Pacers
MIAMI -- Paul George had another frustrating night in Miami.
Hassan Whiteside scored 22 points and grabbed 17 rebounds, Dion Waiters added 22 points and the red-hot Miami Heat pulled away late to beat the Indiana Pacers 113-95 on Saturday night. Miami outscored Indiana 42-22 in the final 16 minutes, all with George watching from the Pacers' locker room after an ejection.
"It felt like a playoff-type game," Heat coach Erik Spoelstra said (see full recap).
Copyright CSNPhily