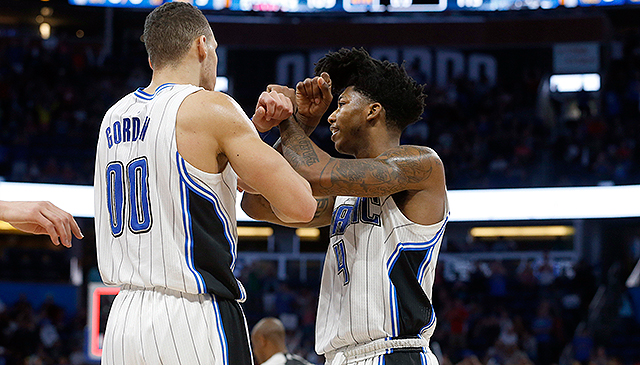 ORLANDO, Fla. -- Aaron Gordon had 32 points and 12 rebounds, Elfrid Payton scored 21 points and the Orlando Magic overcame a late-run by Detroit to win their season-finale 113-109 Wednesday night.
The Magic, who led by as many as 21 points in the first quarter, allowed the Pistons to surge ahead in the fourth quarter in a game matching two non-playoff teams. But Orlando made enough plays behind Payton and Gordon to avoid yet another disheartening loss as the season closed.
Philadelphia 76ers
Complete coverage of the Philadelphia 76ers and their rivals in the NBA from NBC Sports Philadelphia.
Kentavious Caldwell-Pope and Ish Smith both scored 20 points each to lead Detroit (see full recap).
Cavs rest LeBron, finish collapse with loss to Raptors
CLEVELAND -- They staggered to the finish line, falling flat and looking nothing like champions.
It's time for the Cavaliers to get up. It's playoff time.
LeBron James watched in street clothes as Jonas Valanciunas dropped his first career 3-pointer and the Toronto Raptors closed the regular season with a 98-83 win on Wednesday night over Cleveland, which sat James, Kyrie Irving and Kevin Love so they're playoff ready (see full recap).
Robertson honors Westbrook, but Nuggets top Thunder
OKLAHOMA CITY -- Russell Westbrook got an MVP endorsement from Oscar Robertson before the game The Thunder guard only played the first half of Oklahoma City's 111-105 loss to Denver on Wednesday night.
Westbrook broke Robertson's single-season record for triple-doubles by getting his 42nd on Sunday against Denver. Robertson endorsed Westbrook for the Most Valuable Player award during a pregame ceremony on Wednesday.
He was on pace for another triple-double at halftime with eight assists, five points and five rebounds in 18 minutes before coach Billy Donovan decided to rest him for the second half (see full recap).
Pacers push way into playoffs with win over Hawks
INDIANAPOLIS -- Paul George finished with 32 points and 11 rebounds, Jeff Teague added 19 points and the Indiana Pacers clinched a playoff spot Wednesday with a 104-86 victory over Atlanta.
The Pacers completed the regular season on a five-game winning streak to earn the Eastern Conference's No. 7 seed. They will face Cleveland in the opening round.
Ersan Ilyasova scored 15 points and Jose Calderon had 12 on a night the Hawks rested five of their top six players. Thabo Sefolosha played 23 minutes but didn't score as Atlanta saw its four-game winning streak end. The Hawks will face Washington in the opening round (see full recap).
Copyright CSNPhily