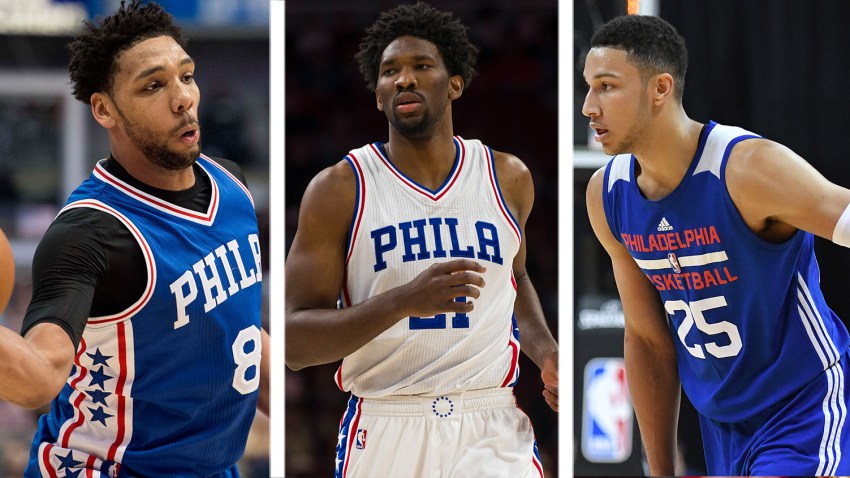 Monday is media day, which means the start of training camp is 24 hours away. The Sixers are positioned to be a team to watch in the NBA this season, and with that comes storylines to pay attention to before it kicks off. From health to new additions to contract extensions, here are five things to look for in training camp.
Restrictions
Minutes. Games. Back-to-backs. Those are in question when it comes to Joel Embiid. Last season the big man was limited to 31 games, did not play in back-to-backs, followed a closely-watched minutes restriction, and underwent season-ending knee surgery in March. Embiid has not been cleared for 5-on-5 yet, making his game availability to be determined during camp.
Philadelphia 76ers
Complete coverage of the Philadelphia 76ers and their rivals in the NBA from NBC Sports Philadelphia.
"It's not about being ready for the first practice or the first game," president of basketball operations Bryan Colangelo said regarding Embiid last week. "And he will be out there for the first practice and the first game. The question is how much, how little, if at all. Those things will be determined by certain criteria along the way."
It also remains to be seen if Ben Simmons, who missed all of last season because of a Jones fracture, will end up being placed under restrictions as well. The Sixers have enhanced their medical staff with the addition of Dr. C. Daniel Medina Leal to the newly-created VP of athlete care position. Leal previously worked for FC Barcelona.
Embiid contract extension
The Sixers and Embiid have a very significant decision to make before the start of the regular season. The deadline for Embiid's contract extension is Oct. 16, two days prior to opening night.
For such a serious business matter, there are so many question marks involved on both sides. How many games will Embiid play? How is his health after yet another injury last season?
If the Sixers offer the max in the extension, would they be overpaying? If Embiid accepts a percentage of the max based on these uncertainties, will he be taking less than if he waited for restricted free agency?
These questions will be answered in less than a month.
Point guard role
The Sixers plan to utilize Simmons as an unconventional 6-foot-10 point guard. Expect him to be tasked with defending power forwards on defense. This role will lend itself to more versatile lineups wherein the Sixers can be a position-less team in many cases. With Simmons at the point, Markelle Fultz will slide over to the shooting guard spot when they are paired on offense. The Sixers traded up to draft him No. 1 in part for his ability to play off the ball.
The backup point guard roles will have to be sorted out. Jerryd Bayless is returning from appearing in just three games last season because of a wrist injury. The veteran can play both guard spots in the backcourt. T.J. McConnell, who started 51 games last season, will once again find himself fighting for minutes.
Jahlil Okafor's future
The Sixers are entering another season with a logjam of centers. Jahlil Okafor still does not have a clearly defined role with Embiid as the starter and Richaun Holmes making a strong case for increased minutes as the backup.
The team remains open to trading Okafor, as they attempted to do last season, if they find the right fit. Okafor's health will factor into the Sixers' opportunity to make a deal. He continued to battle right knee soreness after undergoing surgery for a meniscus tear in March 2016. Okafor last played on March 22.
Looking to improve his game, Okafor has gone "mostly" vegan. He is down to 258 pounds, 20 less than his weight in last year's training camp.
Starting 5
The Sixers had 30 starting lineups last season and will be looking for more consistency this time around. Don't expect standard roles, either. With Simmons running the point, players will be shifted into different positions depending on matchups.
Back in July, I projected the 2017-18 starting five and that group hasn't changed, in my opinion. I am going with Fultz, JJ Redick, Robert Covington, Simmons and Embiid.
There are many people who reacted strongly to the idea of Covington as a starter instead of Dario Saric. Covington is key to the Sixers' defense, though, and Saric can thrive as a go-to in the second unit if he embraces that role.
Copyright CSNPhily