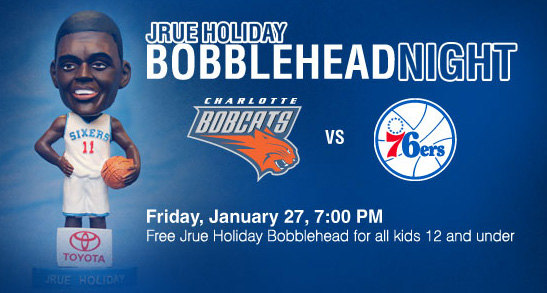 The 76ers are off to an incredible 12-5 start and lead the Atlantic Division by 4.5 games, but despite sitting near the top of the Eastern Conference, the Sixers sit near the bottom in NBA attendance.
Likely looking to draw more fans to the Wells Fargo Center and keep them coming back, the organization announced seven new promotional nights that will feature bobblers, rally towels and more Sixers stuff.
In the past few seasons despite fan appreciation prizes, live musical performances and plenty of other gimmicks, the Sixers still struggled to bring in fans.
With a winning team and some momentum, maybe a few giveaways can change that.
This Friday evening when the Sixers host the lowly Bobcats, fans should walk away with a win, and a piece of Sixers limited edition memorabilia. Fans 12 and under will receive a bobblehead of 76ers rising star Jrue Holiday.
Holiday is averaging close to 15 points per game and had his first double-double of the season last week in the Sixers win over Atlanta.
The following day the Sixers host the Pistons as fans 12 and under will get to walk away with their own Doug Collins bobbler.
Explosive guard Lou Williams will get his own bobblehead night on Feb. 8 when the Sixers host the Spurs at 7 p.m.
Besides bobblers, the Sixers have other fun giveaways planned.
All fans will get 76ers rally towels featuring players like Holiday, Evan Turner, Jodie Meeks, Andre Iguodala, Thaddeus Young, Elton Brand, Spencer Hawes and others.
The towels will be given away at Sixers home games on March 16, March 21, March 23, and April 7.
And if cheap eats are your thing instead check out the next Dietz & Watson $1 Hot Dog Night night when the Sixers host the Nets Wednesday night.
Tickets for these nights and all Sixers home games can be purchased online at SIXERS.COM, by phone at 215-339-7676 or at the Wells Fargo Center box office.