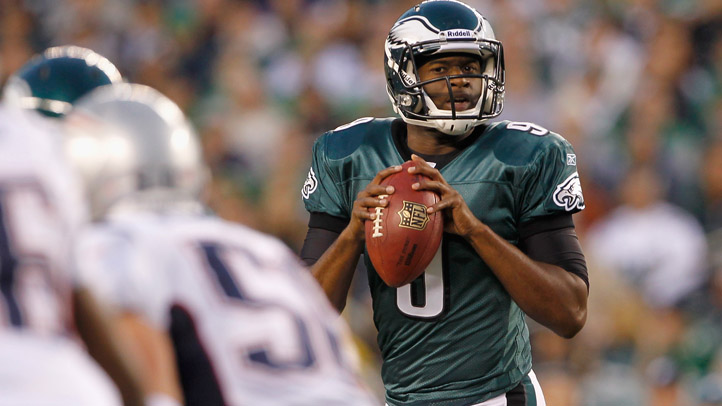 On this short week, it's a perfect time to throw a bunch of quick Eagles stats conclusions at you. All the data is from Pro Football Focus.
* * *
Vince Young is throwing pretty well to all parts of the field except one -- deep down the sideline.
Standard caveats apply: small sample size, DeSean-itis. Still, it's a striking discrepancy. Maybe Marty Mornhinweg should call fewer fly routes.
For what it's worth, Michael Vick has gone 6 for 20 for 169 yards with one touchdown and one interception throwing that same way.
* * *
It's easy to see why Jim Washburn was mad at Mornhinweg. His defensive linemen each averaged just under 10 more snaps in the Patriots game, compared with the previous week against the Giants. No wonder they wore down as the game went on.
By the way, the correlation between Eagles defensive linemen snaps and RB LeSean McCoy's carries (inverted) is rather high:
* * *
Owen Schmitt, ostensibly the Eagles fullback, saw the field five times against the Patriots. All five were passing plays.
* * *
Turns out Asomugha did pretty well in his limited role, but Tom Brady picked apart the rest of the pass coverage. There's not much to smile about here.
* * *
But don't despair, the Eagles still have a 2.5-percent chance of winning the division!