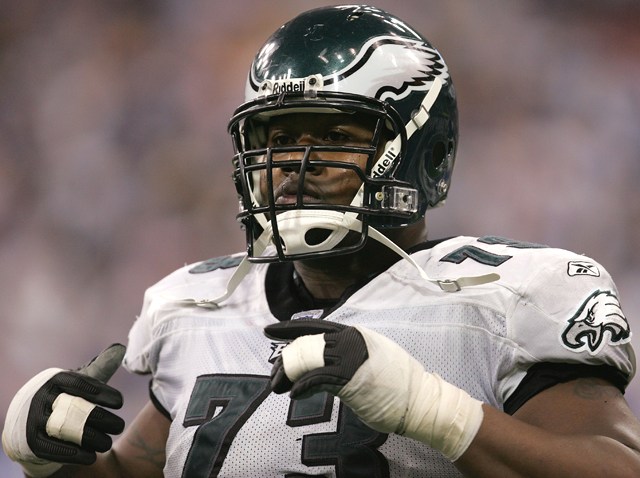 Shawn Andrews will be getting his "Michael Phelps on" with the New York Giants.
The former Eagles Pro Bowler guard has a lot to prove, too. The 27-year-old has not played since early in the 2008 season, missing all but two games the last two years because of back problems that required two surgeries.
"I am laying it all on the line, not that I haven't before," Andrews said. "This is it. The Giants are going to get everything from me."
There is no doubt Andrews is a talent. He also has baggage besides the back issues. His passion for football was questioned during his time in Philadelphia, with critics saying he was more interested in his music career including the web video "Getting My Michael Phelps on," (whatever that means) and he also missed part of the 2008 training camp while battling depression.
"My head is in the game," Andrews said. "It's always been in the game. I just had some setbacks there. It was untimely, and I've heard every excuse from myself why the things happened back in 2008. It happened. We all go through things.
"Why not give a guy a second chance who is passionate about what he does?"
The Eagles tried to give Andrews that second chance when they brought his brother Stacy and former college teammate Jason Peters to the offensive line before last season.
But Andrews never played a game alongside his buddies.
Andrews has spent the past 10 months in Los Angeles, rehabilitating from his second back surgery. He said his back feels good, although he probably will be eased in with the Giants.
"I am a competitor," Andrews said, when asked why he came back to football. "I am trying to follow in the footsteps of the great Larry Allen. I want to be that good and even better and I think I have a chance to do that. This conference is competitive and I think I have a good shot to achieve that. Hopefully, everything goes well and it's back to kicking butt."
The Giants and several other teams followed Andrews' progress during his rehabilitation, but New York signed him. Andrews said he liked the people on the Giants, and the fact that they are located close to Philadelphia and play in the same division.
The Eagles released Andrews in March, saying he failed his physical. Andrews did not agree.
"I'm not making this a Shawn versus the Eagles thing," said Andrews, who made 50 starts for Philadelphia. "It was an untimely release. They wanted to go in another direction and I just kept working my tail off, so here I am. I am a G-Man."
Copyright AP - Associated Press