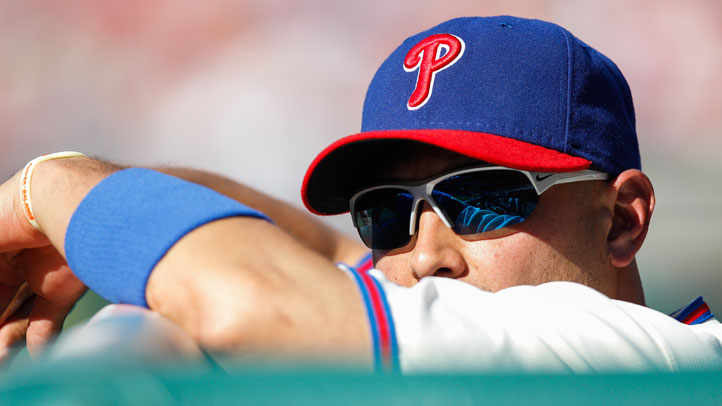 Sunday marked the unofficial end of MLB's first half. The Phillies had a pretty bad first few months, rolling into the All-Star Break at 37-50. And Sunday afternoon just about stuffed everything in a nutshell: the Phils were swept by the Braves and Shane Victorino was a late scratch because he was reportedly upset about something.
To pile on, it was reported Sunday that Victorino "appears to be a short-timer in Philly," with his days as a member of the team done either by the trade deadline or after the season.
According to Rob Parent of the Delaware County Daily Times, Victorino was "ticked and that's why he was scratched." Parent reports that Victorino "walked into the clubhouse, soon saw he was No. 7 in [the] lineup, [and] walked out wordlessly."
However, Charlie Manuel said the batting order issue wasn't the case and that he just wanted to give Victorino "a day off" -- the outfielder hasn't missed a game this season, playing in all 86 of the Phillies contests thus far.
"When I talked to him, he was kind of hurting today and he was down," Manuel said. "He was down because of his performance. I decided to go with Pridie. I just scratched him and gave him a day off.
"I saw [Victorino] in the clubhouse, sitting beside his locker. I walked up and started talking to him. He was down, talking about his hitting, especially from the left side, things like that. He was down. He's got a lot on his mind, I guess."
Jon Heyman of CBSSports.com reported after the incident that the surprise scratch from the lineup was a "manager's decision" and that Victorino is as good as done with the Phillies.
"In any case, Victorino appears to be a short-timer in Philly," Heyman wrote. "If he isn't traded before the July 31 trade deadline, he will almost assuredly sign elsewhere."
Victorino's having the worst season of his career as a Phillies player, batting .245 with a .311 on-base percentage. He does have eight home runs in 86 games but he's never had an OPS+ as low as his 84 right now.
He's obviously got an entire second half to sort things out, but his apparent decision to blow up at being moved down in the lineup could be the final straw for a team that should be thinking about selling players.
Victorino's a free agent after this offseason and if Heyman is correct that he won't re-sign with the Phillies, it would make a lot of sense to move the outfielder now in order to get something return for him.
Heyman reports that the Dodgers could be interested in the outfielder, and even though he's struggled thus far, there are other teams -- the Pirates and Tigers come to mind -- that might be willing to give up something worthwhile for a second half with the Flyin' Hawaiian, hoping that a change of scenery will rejuvenate him.
But if the Phillies believe they can still make a run in 2012 (an idea that becomes more and more difficult to believe with each passing day), they might decide to let Victorino play out the string. In which case, this incident and his poor performance is only hurting himself.