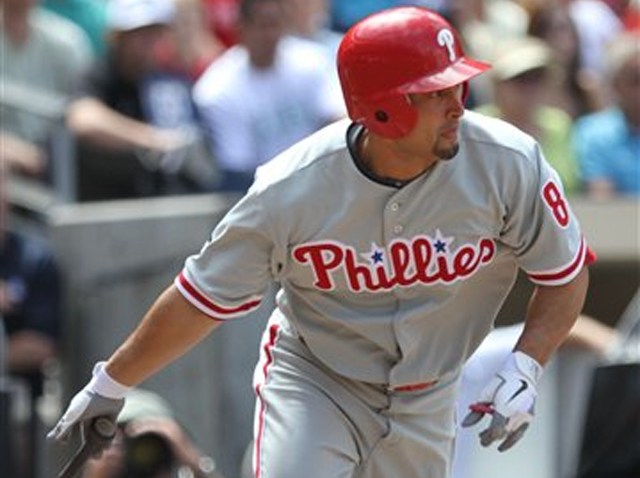 In a move that is sure to surprise no one, the Phillies have placed a starting position player on the disabled list. This time 'round, it's center fielder Shane Victorino, who is dealing with a sprained thumb thanks to a nasty tumble that he took last week in Toronto,
according to Todd Zolecki
.
This will be Shane's second DL stint this season, and he joins Ryan Madson, Jose Contreras, Joe Blanton, and Roy Oswalt in what seems to be a never-ending list of banged up players.
It's about the worst thing that could happen to the Phillies that doesn't include Roy Halladay, Cliff Lee, or Cole Hamels, as Vic had been tearing up opposing pitchers this season to the tune of a.900 OPS (the only Phillie to cross that line). He's been especially hot as of late, with a .376/.448/.647 line over his past 22 games, while firmly entrenching himself as their number five hitter. They are going to miss his bat, especially with a big series against the Braves looming.
If there is any good news to be had, it's that this DL stint will be retroactive to July 4th, meaning that he is eligible to come off on July 19th. Thanks to the positioning of the All Star Break, he will only miss nine games, and he will not be participating in the All Star Game, where he was recently selected by the fans to be the final member National League squad.
In a corresponding move, the Phillies have recalled Pete Orr to take his place on the roster.