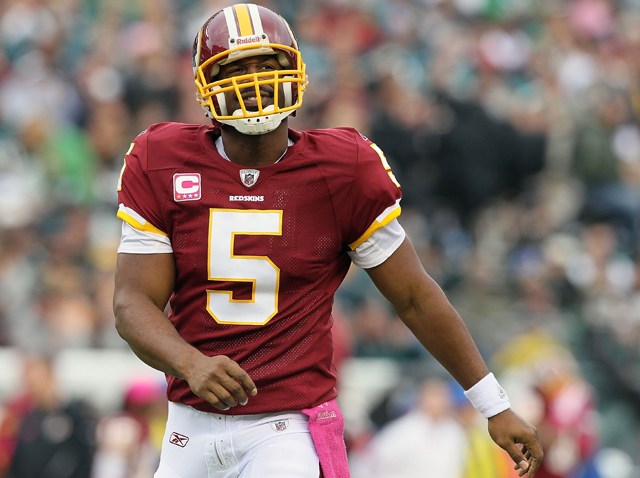 One day after saying Donovan McNabb had failed to master the terminology and timing of his team's two-minute drill, Redskin coach Mike Shanahan changed his explanation and somehow managed to being even MORE insulting to the former Eagles quarterback. Shanny said McNabb lacked proper conditioning:
"The cardiovascular endurance that it takes to run a two-minute [drill], going all the way down with no time-outs, calling plays, it's just not easy." Shanahan said. "If I thought it was the best situation to do, then Donovan would have run the two-minute offense…"

Shanahan said McNabb, who has two tight hamstrings, a sore groin, and a bruised shin, hasn't been able to practice the two-minute drill for five weeks.
Apparently, Donovan failed to heed the NO FAT QB'S sign Shanahan hung outside the Redskins practice facility. You Eagles fans get to sit back and watch all this lunacy unfold with a bit of bemused detachment. Again, this episode brings us right back to Super Bowl XXXIX, when McNabb was slow and lumbering during the six-minute drill and vomiting on the field. Was McNabb not in shape to run the hurry-up offense then? Has he ever been?
This is such a weird thing to consider, given that McNabb has gotten more than his fair share of publicity for working hard in the offseason. I can't even count the number of profiles I've seen of McNabb that detail his rigorous workouts at home in Arizona. They usually include precious footage of McNabb and one of his wideouts running wind sprints with a parachute attached. FUN!
McNabb looked to be in better shape at the beginning of this Redskins season. And all of the nagging injuries that Shanahan mentioned didn't seem to be physically troubling McNabb on Sunday. And let's face it, EVERY player plays with assorted nicks and muscle pulls. You should still be able to run a two-minute offense competently, sore groin or not.
So what is this bizarre litany of excuses and explanations? Is Shanny trying to cover for McNabb and doing a horrible job for it? Is all of this just a euphemistic way of saying that Donovan's career is quickly coming to an end? Given the way he's played of late, you'd be hard-pressed to see it any other way.