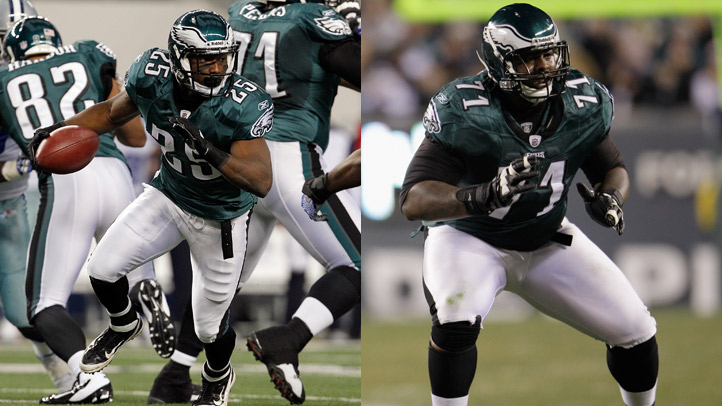 Eagles running back LeSean McCoy and Eagles offensive lineman Jason Peters have both been named to the Associated Press All-Pro first team.
McCoy led the NFL with 20 touchdowns this year and 17 rushing. He's a first time All-Pro and the second tailback from the Eagles named to the first-team in the last five years. Brian Westbrook was named All-Pro back in 2007 when he led the NFL in total yards from scrimmage.
Peters was picked to the second-team last year. He's the first Eagles offensive lineman named to the All-Pro team since Shawn Andrews back in 2006. Peters was also picked to his fifth consecutive Pro Bowl team and was the highest vote recipient among all NFL offensive tackles, according to CSN Philly.
Defensive end Jason Babin was named second-team All Pro. Babin ranked third in the NFL with 18 sacks.
McCoy, Babin and Peters were also picked to represent the Eagles in the Pro Bowl later this month.
CSN Philly also reports Eagles cornerback Nnamdi Asomugha was named a finalist for the 2012 Bart Starr Award. The award is given to an NFL player who exemplifies outstanding character on and off the field. Asomugha formed the Asomugha Foundation back in 2005 to benefit disadvantaged youth in America and underprivileged orphans and widows in Africa.