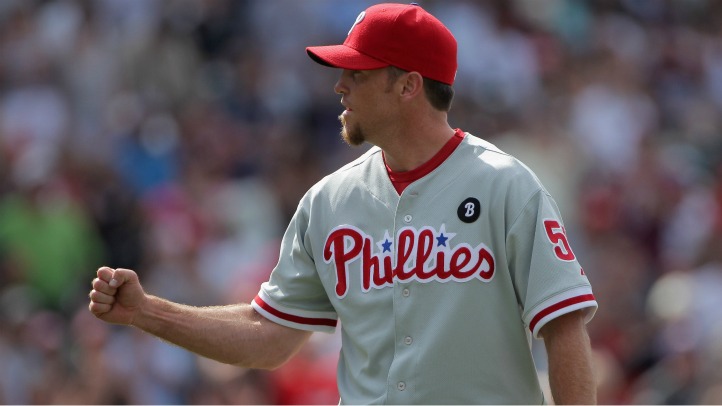 It was a good weekend for the Phillies.
The NL East race is officially over, which is nice even though most of us stopped paying attention to it sometime before school let out in June. The Braves lost twice to the Mets, which means that they still haven't earned a ticket to the dance. And, let's face it, when you're losing to the Mets it's not like you have much of a future in the world of baseball. It wasn't perfect -- the Eagles lost and Mike Vick's head is ringing -- but it was a pretty good weekend all the same.
Brad Lidge had a pretty good weekend as well. He didn't allow a run in 1.1 innings of work against the Cardinals on Friday and Saturday, extending his personal scoreless streak to nine appearances and 7.1 innings. He's allowed just two runs in 15.1 innings in his truncated season and that has us wondering if he's done enough to be the primary eighth inning man for the Phils in October.
His success with run prevention is a bit misleading. Lidge has walked 12 men in those 15.1 innings, a level of wildness that makes his continued success seem unsustainable. You wouldn't want things to even out in the eighth inning of a one-run game against the Brewers and it is inevitable that things are going to even out.
Past experiences with Lidge make a lot of people nervous about trusting him in such tense moments. No one can forget Game Four of the 2009 World Series of his rocky 2005 playoffs when he was still in Houston, although it is a bit funny how those two experiences always make their way to the mind's eye before Lidge's 2008 run of excellence.
Or his 2010 playoff run, for that matter. Things didn't work out well for the team, but Lidge didn't give up a run in his four innings of work. The nature of late inning relief work is that the failures stand out and the successes recede in the memory.
All of these different points don't draw us much closer to a conclusion. What might wind up pushing things into Lidge's favor is the competition.
Michael Stutes and Antonio Bastardo have both looked like they are running out of steam, and the team might well need Bastardo's left arm earlier in games. Joe Blanton isn't an experienced reliever and hasn't proven he's in form. Vance Worley isn't an experienced reliever and the team will need him in the unlikely but possible event a starter gets bombed. Kyle Kendrick is Kyle Kendrick.
All of which leaves us with Lidge or two innings of Ryan Madson. You might get away with the latter once or twice, but it can't be your go-to plan for the late innings. That makes Lidge the last guy standing and it makes Pepto a must have for the eighth inning in the postseason.
Copyright FREEL - NBC Local Media