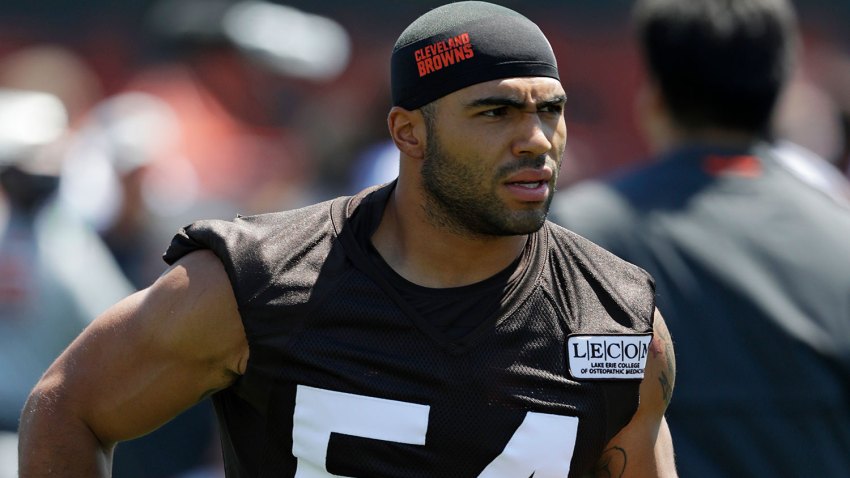 During Tuesday night's episode of HBO's "Hard Knocks," we were taken into the defensive meeting room of the Cleveland Browns before they faced the Eagles in the third preseason game.
In the clip, former Eagle Mychal Kendricks talked about Nick Foles, Zach Ertz and Halapoulivaati Vaitai.
Defensive coordinator Gregg Williams gave Kendricks the floor to give his new teammates some tips about defending his old ones.
Here's what he said:
OK, let's start with Nick Foles. Going against Nick Foles, I realized on his long balls, his deep balls, he has like a teardrop effect. He's tall and he likes to drop that literally from the sky. So corners, the timing's just a little slower on that ball coming in.
This isn't terrible advice. We have kind of seen this from Foles over the years. He does like to drop in those deep balls, but it's a lot harder to defend than just knowing the timing is slow. The Browns, of course, did a pretty good job against Foles. The Super Bowl MVP started to get a rhythm at times, but wasn't able to put up any points against the Browns.
Eighty-six, I think, is the best receiver on the team. Notice I said receiver. When it comes to blocking, you f------ hit his a-- over and over and over, he doesn't want any smoke.
This is the closest thing that can be considered a "shot" in Kendricks' advice to his team. I guess it's not entirely without merit. If a team is looking for a weak spot in Ertz's game, it's still his blocking. But he's come so far in that regard that this advice isn't anywhere near as relevant as it would have been a few years ago.
And Ertz has had his toughness questioned before, but I think he's overcome that. It is a little surprising that Kendricks seems to take a shot at that toughness here. You might even remember that in 2016 against the Browns, Ertz suffered a first-rib displacement and actually finished the game. And he also caught the game-winning touchdown in Super Bowl LII as he dove into the end zone.
Big V … Vaitai. He's so big that his size allows him to do what he does, you see. But he doesn't have the quickest feet and he's not the strongest. He doesn't trust his feet at all. You get on him, he doesn't trust his confidence at all.
This is honestly a pretty fair assessment of Big V, especially the part about his confidence. That's the scoop on Vaitai: that once he loses his confidence, he struggles to get it back. That's why his NFL debut in 2016 was such a disaster; he lost confidence and never got it back.
It isn't uncommon for a guy on a new team to give his new teammates the scoop on his former teammates. It's just unique that we get to see it thanks to the "Hard Knocks" cameras. Aside from what might have been an unwarranted shot at Ertz, Kendricks wasn't off that much. Have fun in Cleveland, Mychal.
More on the Eagles
Copyright CSNPhily