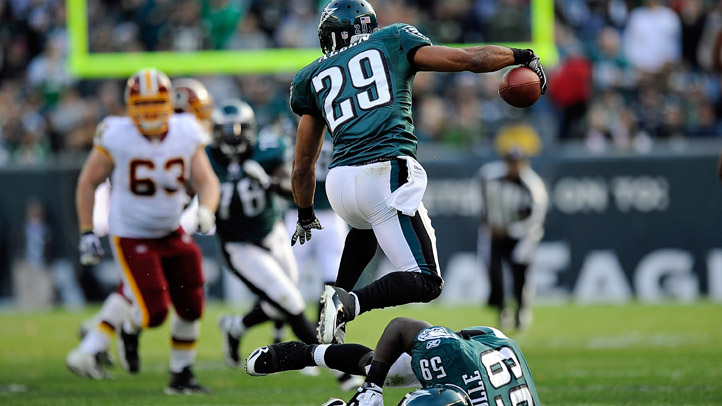 Sunday's 34-10 win over the Redskins left a sweet taste for many Eagles players who have had to endure a painful 2011 season. Even beyond the team's struggles, a few players in particular experienced a sort of redemption in the season finale.
Cornerback Dominique Rodgers-Cromartie, a former Pro Bowler who came from Arizona in the Kevin Kolb trade, had his share of down moments throughout the season. He especially faltered when forced to play inside as the slot corner instead of his natural position on the outside.
With Asante Samuel out once again, DRC got another chance to show his skills, and he took full advantage, breaking up multiple passes, including one that was subsequently picked off by safety Nate Allen.
"It's all about timing," DRC said. "[The receiver] might have a few steps on me, but I know the quarterback has to throw a perfect line drive. And if he leaves any air on the ball at all I know I have a chance to make it. At the last minute you know what time to jump and that tends to play to me and my style of play."
Allen, who returned the second quarter interception 31 yards, said that his early season struggles came because he just wasn't making big plays.
"Early in the season, it's hard to put your finger on one thing that caused it. It wasn't happening, but no excuses," he said. "We finished strong, so that's all we can do."
Casey Matthews, the much-maligned fourth-round rookie linebacker, also got a chance for redemption on New Year's Day. While he began the season as a starter, Matthews was benched after it became clear he wasn't ready. On Sunday, however, Jamar Chaney suffered a concussion in the first quarter, thrusting Matthews back into the spotlight.
"I didn't really know what to expect," Matthews said about his roller-coaster rookie season. "I had the ups and downs in the season, but it was a good thing I got to finish, playing and on a four-game win streak. With the experience of knowing what to expect, I look forward to my first offseason... I knew I was going to get a shot to go back out there, I just didn't know when it was. It was a great learning experience."
Matthews wasn't perfect, but he admitted that he was much more comfortable this time around.
Wide receiver/returner Chad Hall, who was only promoted to the active roster on Nov.16, had his best game of the season against the Redskins.
"Any opportunity I get I don't take it for granted. I know it might be my last every time," Hall said.
He returned a punt 30 yards and also punched in a touchdown on his only reception of the night, a quick out route in which he broke two tackles to get to the end zone. The celebrated with a leap into the Linc stands.