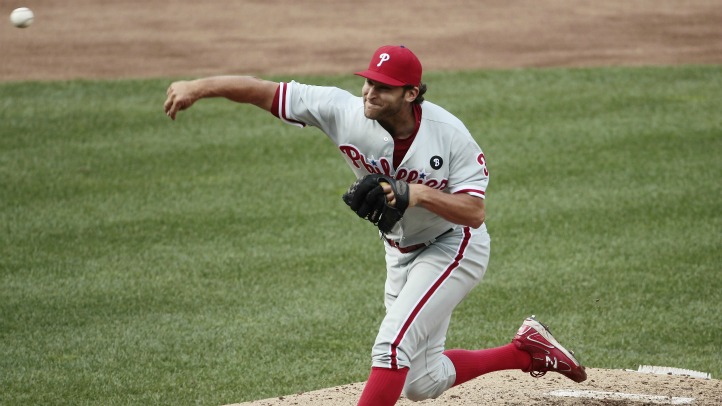 Michael Schwimer finally went from myth to man on Sunday against the Nats.
All season we've been hearing tales of the man dominating Triple-A hitters as if they were mere little leaguers. It might have been the minor leagues, but averaging nearly 12 strikeouts per nine innings and a 1.88 ERA are numbers that jump out at you, regardless of where they are being compiled. When the Phils finally reached down to Lehigh Valley to bring Schwimer up last week, everyone was curious to see how his stuff translated.
We finally got our chance after Sunday's rain delay when Roy Halladay turned the ball over to Schwimer. Right out of the gate, it looked like the hype might not match up to the results.
Danny Espinosa, the first hitter Schwimer faced, hit a homerun to dead center field, a negative result made all the worse by the fact that Schwimer seemed to think it was a routine pop fly. For a moment, we thought Schwimer might have some kind of Hogwarts training that allowed him to stop the trajectory of a sure homer by simply pointing in the air, but over time it became clear that Schwimer just likes pointing at the sky.
It also became clear that he could pitch a little bit. Schwimer wound up striking out four in three innings of work while using a mix of pitches that's a bit more varied than most relievers. None of those pitches were off the charts, but the fact that he has them at his disposal makes it much harder for hitters to lock onto what he might do during an at-bat.
The one obvious knock on Schwimer in the minors was his work against lefties, something that bears watching in his future appearances after he allowed two hits to them on Sunday.

All in all, though, he looked a lot like the pitcher we've been hearing about and flashed enough ability that there could be consideration of taking him along into October.
It would be something of a risk to take three pitchers as callow as Antonio Bastardo, Michael Stutes and Schwimer to the postseason. The streakiness of short relievers is well-known, however, so it behooves the Phillies to go with the guys who are doing the best job when it comes time to set the roster.
That could mean Schwimer brings sky pointing back to the national scene for the first time since John Travolta wore his white suit to a disco. Not really what anyone expected back in April, but that's part of what makes baseball so great.
Copyright FREEL - NBC Local Media