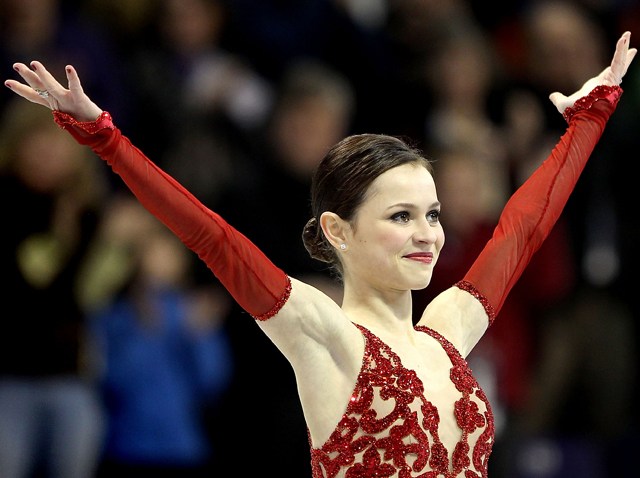 Olympic silver-medalist Sasha Cohen has made a name for herself on the ice but she knows how to have a good time as well.
"I try to do something fun -- get a little bit of fresh air."
She appreciates her time away from the ice because even though the 26-year-old will likely never figure skate competitively again she still needs to stay in top shape to perform in ice shows.
"A lot of time we spend at the arena prepping," Cohen said.
She will be prepping down the shore this week as she joins American legends including Nancy Kerrigan, Scott Hamilton, Peggy Fleming, Evan Lysacek and more at "The Caesars Tribute: A Salute to the Golden Age of American Skating" at Boardwalk Hall in Atlantic City on Saturday night.
Sasha, a California girl, loves the East Coast and it's intensity, she said. She was in Philly recently to promote Saturday's ice skating showcase.
But while she was hear don't think she was trucking it over to Pat's and Geno's.
"I've never gotten a cheesesteak... I'm definitely more of a desert person."
She has taken that sweet tooth around the whole world skating both for medals and showcases. Along the way she has come up with a great way to make sure she gets a tasty local treat -- especially cupcakes -- anywhere she goes.
"I love to just walk around and meet the local people and go to the local restaurants," she said. "It's a great way to meet the people."
Another great way to meet people has been skating. Sasha's biggest accomplishment was picking up a silver medal at the Torino Olympics in 2006 and she hoped to make another games this year but fell short of that goal.
Despite never striking Olympic gold, Sasha is so grateful for all the doors skating opened.
"The competition gave me the opportunity to do really great things."
One of those great things will happen Saturday when she takes the ice with American skating royalty.
"To come back and skate with legends… it's a once in a lifetime thing."
Click here to buy tickets to the Dec. 11 Caesars Tribute event.